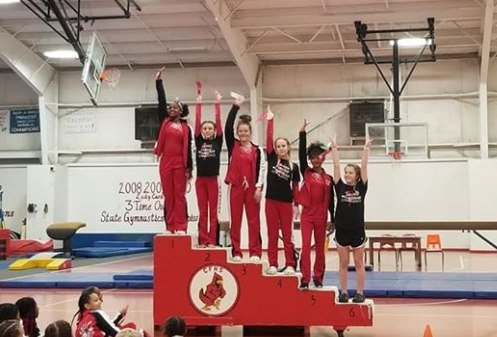 CAMDEN — By PATRIC FLANNIGAN
Sports editor
The Lady Cardinal Gymnastics team looks poised to defend its state title with new faces. LCG also recently defeated Monticello during the dual meet.
LCG Coach Nancy Delorme recently spoke about the intrasquad meet the team had earlier this month. Delorme shared that the meeting served as a practice with the actual judges to see where the girls stand before their first actual meet. It also allowed the new girls joining the junior team to become familiar with a meet before being "thrown" into competition.
"We had some problems last night as usual," Delorme said after the intrasquad meet. "But over all a good time. Some of our high school girls were sick and some had family responsibilities but we had the meet... First and second place all around was only .05 scoring apart. It's going to be fun watching these two compete this season!"
Results were as follows:
• Bars 1st Chelsey Purifoy, 2nd Kameron Vaughan, 3rd Keira;
• Beam 1st Vaughan, 2nd Purifoy, 3rd Keira;
• Vault, 1st Jasmine Scott, 2nd Vaughan, 3rd

Purifoy;
• Floor - 1st Vaughan with a 9.4 score, 2nd
Chelsey, 3rd Bianca Garcia
• All around 1st Chelsey, 2nd Kameron, 3rd Keira.
Sponsor Content
Comments