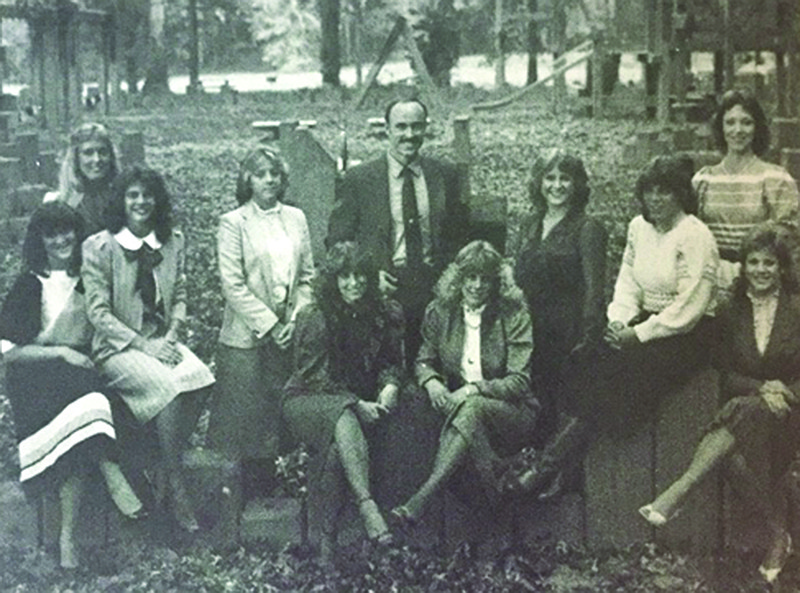 CAMDEN — By PATRIC FLANNIGAN
Sports editor
The SAU Tech Lady Varmints won consecutive National Jr. College Gymnastics Championships in the mid 80's. The Lady Varmints were inducted into the SAU Tech Athletics Hall of Fame earlier this year. Recently the Camden News has been able to communicate with one of the former student athletes - Mitzi Harris (Bartek) with the help of SAU Tech Dean of Communications and Development Kim Cooker.
"On behalf of the entire gymnastics team, we are truly honored to be inducted into the second Annual SAU Tech's Athletics Hall of Fame," Mitzi stated via email. "The staff, student body, and town of Camden always supported, embraced, and treated us all in such a special way. It was a privilege to bring all of them back-to-back National Jr. College Championships! All of our hard work, blood, sweat, and tears were definitely worth our accomplishments and memories we'll cherish forever. Thank you SAU Tech and town of Camden."
Mitzi was a member on two of the national championship teams and shared photos and stories about the teams' journey to the titles. After graduating from SAU Tech, Mitzi continued her schooling and gymnastics competition career at Oklahoma University in Norman, Ok where she was part of an "incredible" team, with exceptional coaching at a legendary institution.
"I was fortunate to be part of winning Big 8 Championships and earning an awesome letter jacket and degree while attending," Mitzi detailed. "Along with my Bachelors degree from SAU-Tech, I left OU with a Recreational Therapy degree/diploma in '87 which I made full use of: Physical Therapy Aide, Personal Trainer, Country Club membership sales…and now a full-time mom in Flowermound, Texas… My oldest daughter recently graduated from OU and is completing nursing school now at TCU in FtW, Tx. While traveling to and from Flowermound to Norman to visit her, I had flashbacks of my long and lonely nine plus hour drive to and from Abilene,Tx to Camden, Arkansas while in school."
Mitzi's teammates included Penny Cayer, Tracy Morrow, Rita Welch, Donna Farrell, Shannon Conlon, Debbie Hill and Kathy Patrick. At one of the NJCAA meets, Cayer won first place followed by Mitzi and Morrow respectively. Lorie Leimar, Carla Touchet, Kim Crawford, Joan Tubb, Stacy Wiegmann, and Carla Maupin also made up one of the championship rosters that Mitzi was a part of.
The Lady Varmints were coached by Dr. Robert Warren and begin their reign on the national stage in 1982. Mitzi explained that the team stayed in great shape because they "never stopped working out." The team traveled to the old Camden High School to train every day on a minivan. Their gym workouts were four to five hours, they jogged around the main campus at night and they would ride their bikes into two - twenty plus mile trips - and also lifted weights.
Mitzi also shared how fun the campus at SAU Tech was. She shared a story about how the basketball players were so supportive of them.
"The basketball players were very supportive and very protective of us gymnasts, and we did our best to support them as well. Prior to one of their tournaments, we TP'd the whole bottom floor of our housing which was the BB guy's floor to generate excitement and appreciation for all they'd done for us! It was hilarious because they weren't sure what getting TP'd was suppose to mean before their tournament. But TP was all we had to decorate with and they loved it! During the time we the dorms for both BB players & gymnasts was an older fireman/firehouse barracks location, which still cracks me up to tell others!"
Mitzi also spoke about the teams photographer and his wife Don and Paula Travis. She said they were so important to the team because of their support and how nice they were.
When Mitzi was asked what she would tell other aspiring gymnast she simply said to "go for it."
"Go for being the best you can be everyday! Tell yourself that each day will be the best day ever! GO for the tedious little painful steps that will pay off later like an escalator! GO for the time, effort, blood, sweat, and tears that will pay off later like a determined rushing river! GO for always being grateful and appreciative for those who have trained, mentored, and supported you in your process! GO for making long lasting relationships with your teammates, they understand the pain of falling and the joy of reaching the top! GO for the enjoyment of competition, the experience will pay off by reminding you that failure, struggle, and defeat encourages success and fulfillment! GO for knowing that there's always more to learn! GO for being the ONE that encourages others to have confidence and determination of being amazing with their given talents! GO for the ability of making any stumble you have part of your routine!"
The Camden News will continue to work with Mitzi and Coker to communicate with more members from the national title teams to share their stories in the future.
Sponsor Content
Comments