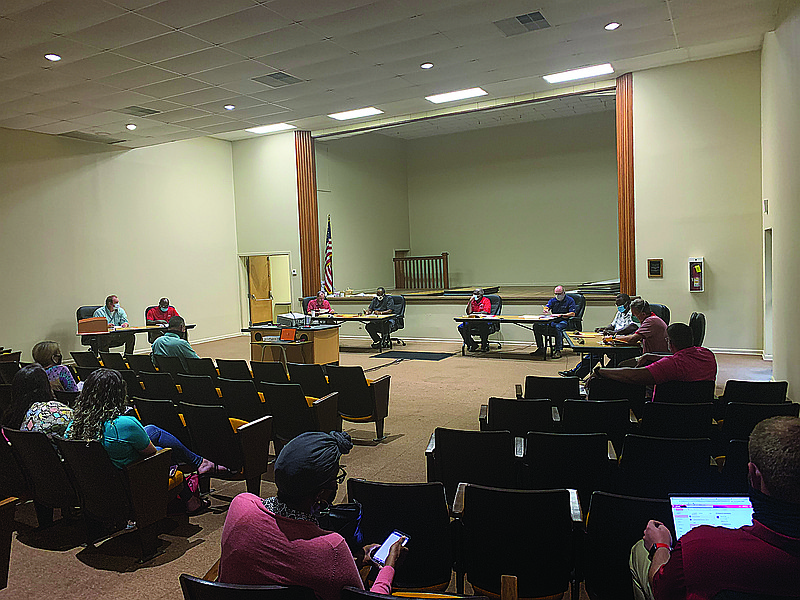 - Photo by Patric Flannigan
CAMDEN — By Patric Flannigan
Staff writer
The Camden Fairview School District Task Force met again recently to discuss any new developments in regards to the upcoming school year.
When the task force met earlier this month, the idea was to list concerns and suggestions to take before the CF School Board meeting for approval. One of the suggestions was for students to wear face coverings while they are at school. However, before the school board meeting took place, Arkansas Governor Asa Hutchinson had already issued a mandate requiring face coverings throughout the state.
Embry said during the task force meeting that several districts are considering making their student wear the same color or style of mask but the CFSD is leaning towards allowing allowing students to wear whatever face-mask they want as long as it doesn't violate the dress code.
"If that elementary student want to were a mask with a super hero or a fairy princess on it and that's what it's going to take to get them to wear them then we wanna do that," Embry explained. "We are not going to allow for them to wear any thing with a type of beer on it or anything like that."
Embry then reported that as of Thursday afternoon, 34 percent of the returned surveys have requested for their children to participate in school virtually. The deputy superintendent explained that the numbers are "soft" and could change as the deadline to request virtual school has been extended to Monday.
Another new development is that RN Kristi Dean will serve as the district's point of contact with the Arkansas Department of Health. She will attend Contact Tracer Training at the South Central Co-Op in August.
The district has also released the Ready for Learning plans for each building. The plan is detailed and compares what learning will be between face-to-face instruction and virtual instruction. The plans can be viewed at www.cfsd.k12.ar.us.
Embry announced that another way the district will combat the pandemic is by limiting visitors during the school day. He explained that all campuses will be closed once the children arrive so parents will not be able to eat lunch with the students or things along those lines. He added that there probably wont be any Open House events or traditional parent-teacher conferences.
Embry recounted that a called him earlier in the week and broke down crying because they were concerned about their child not getting the regular school experience. He stated that the district's goal is to make school as normal as possbile while also making sure they are doing everything they can to keep everyone safe.
Embry then stressed that he wanted everyone to know that things are happening every moment. He compared coming up with plans to reopen school to building an X 71 Blackbird after having one lesson while flying it in a storm. He shared that things can change at anytime and pointed to the school year being pushed back a couple of weeks and the mask mandate as examples.
"It's not that we don't have more information, we are working through it.,but a lot of things until we get guidance from the state department, we don't know" Embry explained.
One of the the items that the district is awaiting further guidance on is in regards to athletics and extracurricular activities. A lengthy conversation was held during the school board meeting last week when a recommendation for the athletic budget was presented. Assistant Superintendent Andre Toney stated that the $55,000 athletic budget for the 20-21 year is the same as it was for the 19-20 year. The CF Band Program is also budgeted at $55,000. CFSB member Dr. David Mosley asked how the budget is determined for each sport and CF Superintendent Fred Lilly said that it is determined by the number of students participating and the amount of money the sport is projected to receive. CF School Board Vice President Sean Dorey asked if the district knew they would be able to recoup the expenses by fan support with the pandemic still happening and CFSB President Eddie Ray Moore stated that the main goal is to keep the children and teachers safe and said that "there are things more important than athletics."
"We are discussing having sports when we already have major college programs cancelling their seasons," Moore stated. "They are dealing with the same COVID that we are dealing with. We are thinking we can have our kids running up and down the field and the court with everybody and not get sick. They could take it back to their parents and grand parents. Until it hits home, we wont realize how serious this is. I've had parent call me upset because we didn't have a graduation. I would rather for my kid to be alive than to take a chance of them catching a disease that the doctors don't even know a lot about yet.
Ultimately, the school board voted to conditionally approve the budgets for athletics and band but may choose to revisit the budgets if AAA or Hutchinson limits fans from attending the games.
The school board also voted 4-3 to allow a student to transfer to Harmony Grove to start the school year as the family is in the process of relocating there. Two other transfer recommendations were on the agenda. One was denied because of the school's desegregation lawsuit and the other was denied because the parents or guardians didn't show up.
The school board then voted to approve the 20-21 school calendar. Because school will start later than originally planned, the Thanksgiving break will only be three days as opposed to five days. Christmas break will start on December 21 with student returning the school the Monday after New Year's Day which will be Jan. 4.
Other items approved were the following:
• School improvements plans for each building
• Student handbook changes that included an updated table of contents
• Bids for obsolete district vehicles
• Y95 broadcasting football, baseball and basketball games
Sponsor Content
Comments