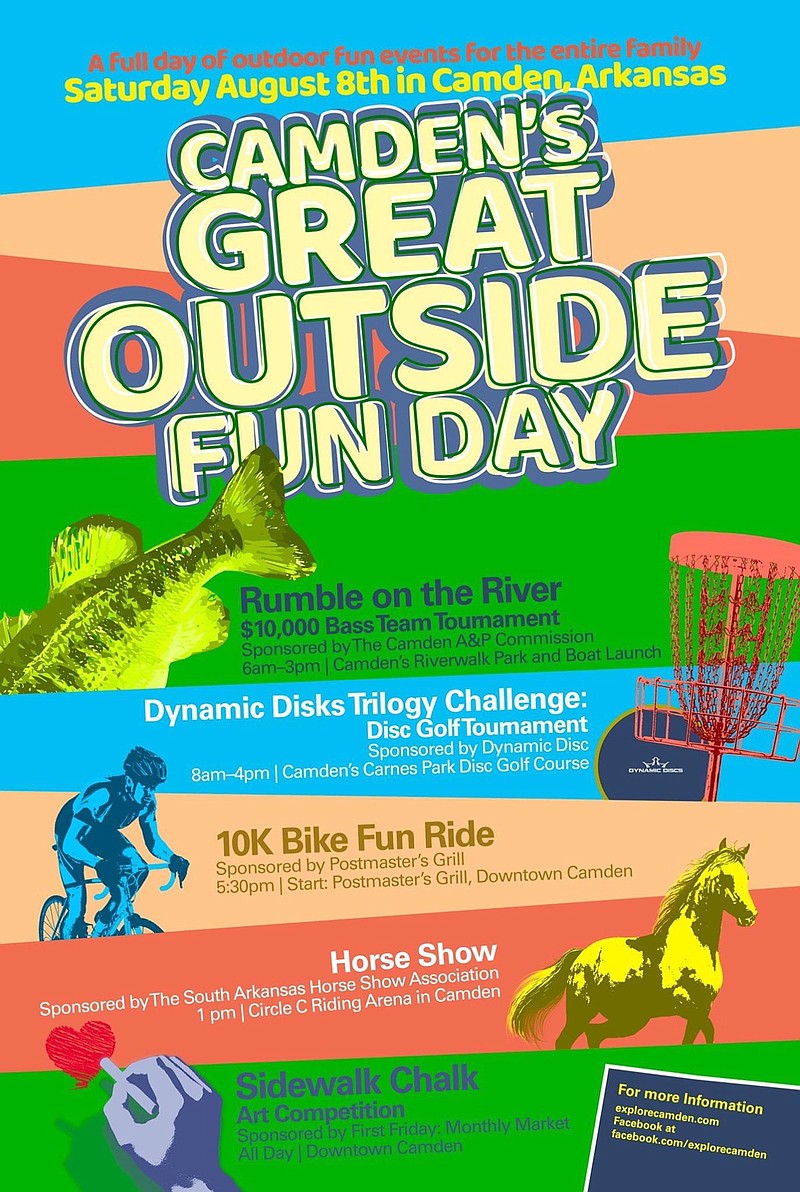 CAMDEN — Special to the Camden News
Looking for fun, safe outdoor adventure? Whether it's fishing, bike riding or live music, you will be sure to find it at The Great Camden Outside Fun Day, a one-day event that is set for Saturday, Aug. 8, in Camden, Arkansas!
"We were trying to think of something that we can do with the way things are now with active (coronavirus [COVID-19]) cases and to give people a sense that they can get outdoors and enjoy something besides being in their house," said event organizer Charlotte Young.
"So, we looked at different outdoor activities that you can do and still social distance because we want to keep everybody safe and we felt like these would be some good activities for people to enjoy," Young said.
Camden's Great Outside Fun Day will be chock full of activities for all ages!
Rumble on the River $10,000 Team Bass Tournament
The day will kick off at 6 a.m. with the Rumble on the River Bass Team Tournament at the Camden River Walk along the Ouachita River. Boats may launch from the River Walk Park boat ramp, 405 Washington St. SE, or the boat ramp in Sandy Beach Park, Sandy Beach Drive, before motoring over to the River Walk for take-off. A drive-thru weigh-in will be held at 3 p.m. in River Walk Park, in accordance with an event plan and coronavirus (COVID-19) guidelines that have been approved by Gov. Asa Hutchinson's office and the Arkansas Department of Health.
Anglers will compete for more than $10,000 in prize money. A cash prize of $5,000 is guaranteed for the first-place team. Cash and other prizes will also be awarded to second- through 10th-place winners. Registration is underway. Anglers may sign up online at www.arkansasbassteamtrail.net or in person at the Camden Area Chamber of Commerce office, 314 S. Adams Ave. The entry fee is $125 per boat. Teams are limited to two people per boat. Participants who complete early registration by Aug. 1 will be entered into a drawing to win a $50 gift card from Academy Sports + Outdoors. Final registration will be held from 5 until 7 p.m. on Friday, Aug. 7, in River Walk Park.
Dynamic Disks Trilogy Challenge: Disc Golf Tournament
An Arkansas Disc singles golf tournament, part of the 2020 Trilogy Challenge, is set from 8 a.m. until 4 p.m. in Carnes Park, Carnes Park Drive. Disc golf is new to Camden, with a new and challenging course being constructed in Carnes Park.
The $35 entry fee for the tournament includes a player pack with three discs: a Latitude 64 SPZ3 driver, Dynamic Discs Bounty Mid-Range and Westside Discs Crown putter.
A towel, mini and scorecard also come with the entry fee!
The tournament will include three divisions — advanced, intermediate and women — and two pools, Pool A: Advanced and Pool B: Intermediate and Women.
Tentative plans call for participants to play a total of 36 holes by circulating the front nine twice per round. If the back nine is installed and completed by the day of the tournament, the players' cap will be increased and golfers will play 18 distinct holes per round.
The tournament schedule is:
• 8 - 8:30 a.m., check-in.
• 8:30 a.m. - 8:45 a.m., players' meeting.
• 9 - 11:45 a.m., first round, pools A and B: short/short.
• 11:45 a.m. - 1 p.m., lunch.
• 1 - 3:45 p.m., Pool A: long/long and Pool B: short/short.
• 3:45 - 4 p.m., awards.
Participants are required to sign up in advance. To register online, visit www.discgolfscene.com/tournaments/Trilogy_Challenge_at_Carnes_Park_2020/register.
Registration closes at 8 p.m. on Thursday, Aug. 6. For more information, call Jerry Ray at 870-807-1080.
10K Bike Fun Ride
Families are encouraged to enjoy the evening with the 10K Fun Ride, hosted by Postmasters Grill. The ride is free and open to children and adults and will have a rolling start, allowing participants to join any time between 5:30 and 6 p.m. The bike route will begin in Scott Alley next to Postmasters Grill, 133 W. Washington St. A portion of the ride will wind along The Trace, Camden's beautiful rails-to-trails project. Entry forms and waivers are available at Postmasters Grill and online at explorecamden.com. For more information, call Emily Robertson, of Postmasters Grill, at 870- 836-5579.
Following the Fun Ride, be sure to stop by the Postmasters Grill Stage for live music by P.J. and Dark Horse. The Camden-based band performs classic rock and country music. Seating is limited and those who plan to attend are encouraged to make reservations.
Horse Show
The South Arkansas Horse Show Association will present a horse show at 1 p.m. at the Circle C Riding Arena, 100 Ouachita County Road 451.
The show will start with Western Pleasure Events and later move on to speed events, including barrels, flag and poles. Lots of fun activities are also planned for children! Admission is free and the concession stand will be open. Attendees are encouraged to bring their lawn chairs to enjoy the show. For more information, call Cheryl Shatley at 870-833-1222.
Sidewalk Chalk Art Competition
A sidewalk chalk art competition is also on tap for The Great Camden Outside Fun Day. Hosted by the First Friday: Monthly Market, the competition will include categories for children, teens, adult and families. There is no fee to enter the competition but pre-registration is required. Entries will be processed in the order in which they are received.
To create their artwork, participants will be assigned 5-by-5-foot sidewalk squares along Washington Street and Adams Avenue.
Artists should be mindful that the exhibit area is family-friendly and that entries should be whimsical, humorous, mischievous, lovable, beautiful and tasteful. Political statements and connotations and offensive, crude, discriminatory and derogatory terms or expressions are prohibited.
Because of sweltering summer temperatures, artists may create their works during the evening of Thursday, Aug. 6; any time on Friday, Aug. 7; or early in the morning hours of Saturday, Aug. 8, before activities begin for the day.
Ribbons will be awarded to first- and second-place winners in each category.
To register or for more information, go to the First Friday: Monthly Market in Camden AR Facebook page or call Charlotte Young at 870-807-1468.
Sponsor Content
Comments