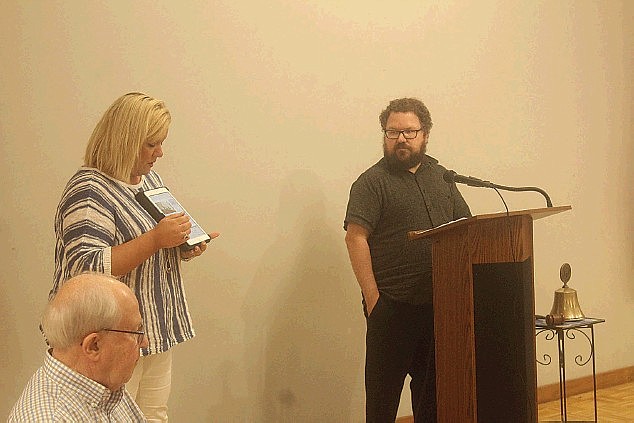 Camden News General Manager Robyn Yarbro and News Editor Bradly Gill spoke at the Camden Kiwanis Club on June 18. (Patric Flannigan/Camden News)
Camden News General Manager Robyn Yarbro and News Editor Bradly Gill served as the guest speakers during the Camden Kiwanis Club weekly meeting on Thursday. Yarbro and Gill spoke about CN celebrating its 100th year in the newspaper business and how the industry has changed.
Gill shared that CN was started as an evening edition by Curtis Hurley in 1920 before it was sold to Clyde Palmer. Palmer offered to sell CN to his son-in-law, Walter E. Hussman Sr. in 1949, when he learned that Hussman was considering buying a newspaper in Midland, Tx.
Since January, CN has been running a "From the Archives" section that highlights significant articles in Ouachita County's history. Gill stated that the archives are found in bound files and microfilm and then republished for the readers. CN will also began running a special section it its Thursday digital edition celebrating its 100 years by providing more back story on historic events the newspaper has covered.
Gill spoke about long-time CN Editor Al Rose and photographer Ben Bracken who have years of content to pull from. He added a thank you to Teresa Harris who is a local historian that has always been willing to share information with the CN.
"They were both incredible," Gill stated. "I have been able to learn a lot more about them recently."
An event was planned in January to celebrate CN's 100-year anniversary, but it has been postponed due to the pandemic. Gill shared how much the day-to-day duties have changed amid the coronavirus and explained how going digital was timed perfectly for the news to still be available for public consumption.
"We had a lot of stuff planned back in January but by the time March came, our whole industry was changed," Gill said. "I work from home, the computer connects to the desktop at work. We have Zoom meetings. Most of my interviews are done now either over a cell phone or Zoom… Over the last 20 years, the need to be connected has stayed the same but the need to transfer information has changed. One of the reasons whey we went digital is because that's how people receive information now. It's a lot easier to get a story in, write it up and in 10-20 minutes have it up on the website than to get a story in wait for it to get set on a printer and then that goes to delivery, then by the time you get it, it's a 12-hour old story."
Yarbro presented an iPad and discussed how to use the CN app. She said that a new app is in the works and should be done by the end of the year but showed how accessible and operational the current app is already.
"The information is the same as the newspaper, but the format on the replica is so much easier because it looks like the newspaper," Yarbro explained. "You can click on a story, make the font bigger and you can even get it to read to you."
Yarbro stated that the new app will be even more "user friendly" and will allow access to addition videos and photo galleries.
"Everybody wants their information right now," Yarbro explained. "We have partnered with Second Street which is a marketing platform where readers can go in and submit their ideas."
Yarbro and Gill clarified that CN has iPad that can be leased but the CN app is accessible on any iPad or smartphone. If a customer leases an iPad from CN they will also be able to access the Arkansas Democrat Gazette.
Sponsor Content
Comments