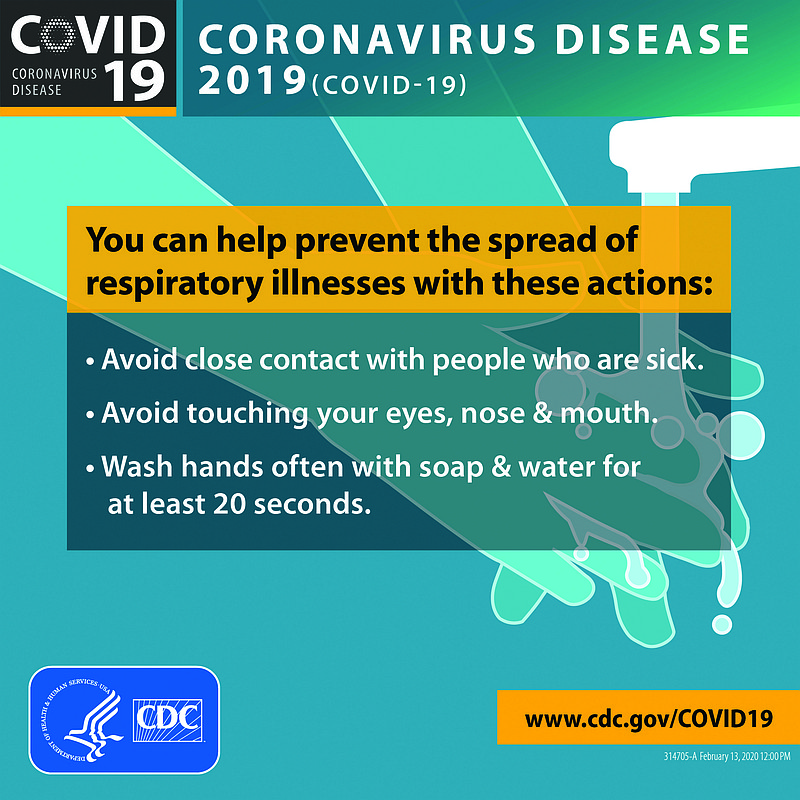 CAMDEN — By Patric Flannigan
Staff writer
The Arkansas Department of Health and the Central Arkansas Veterans Healthcare System have issued news releases regarding their plans to limit exposure to the coronavirus.
As of Monday, no cases of coronavirus have been confirmed in Arkansas.
The ADH is directing all long-term facilities to screen visitors and employees. The news release reads as follows:
"Coronavirus disease or COVID-19 adversely affects older adults and persons with underlying health conditions or compromised immune conditions. This population is at greater risk for severe illness from this virus.
Due to the vulnerability of residents in long-term care facilities, it is of utmost importance to limit possible exposure to COVID-19. A long-term care facility is defined by section 20-10-101(10) of the Arkansas Code and includes nursing homes, residential care facilities, assisted living facilities, post-acute head injury retraining and residential care facilities, and any other facility that provides long-term medical or personal care.
Effective immediately, the Arkansas Department of Health directs all long-term care facilities to screen all visitors and employees as described below. The facility shall restrict entry for visitors meeting any one of the screening criteria. Restrictive authority for visitors can be found at 42 CFR §483.10(f)(4), and at F-tag 563 of Appendix PP of the State Operations Manual. The facility shall restrict work for any employee meeting any one of the screening criteria.
Screening Criteria.
Facility staff must question all visitors regarding international travel within the last 14 days to countries with sustained transmission of COVID-19. For updated information on restricted countries visit: https://www.cdc.gov/coronavirus/2019-ncov/travelers/index.html

Facility staff must question visitors if they have had contact with someone known to be infected with or, under investigation for, COVID-19.

Facility staff must screen for signs or symptoms of a respiratory infection, such as cough, sore throat, and fever by measuring their temperature. Temperature may not exceed 100.4 degrees Fahrenheit for any visitor entering the facility.
For employees, temperature screening shall be done prior to every shift. For assistance with screening, an optional questionnaire is attached and can also be accessed at www.healthy.arkansas.gov.
Per CMS guidance on survey activities, the Office of Long-term Care will continue to work immediate jeopardy complaints, complaints alleging infection control concerns, annual surveys, re-visits, initial certifications, surveys of facilities that have had immediate-jeopardy level infection control deficiencies in the last three years, and surveys of facilities that have a history of infection control deficiencies at lower levels."
Silver Oaks Administrator Kathy Langley shared how her organization is addressing the threat of Covid-19. Langley said that Silver Oaks is already screening all visitors and employees and performing deep cleanings on places that would carry the disease such as hand rails and door knobs. She stated that there is also a lot of signage around the nursing home that lists the symptoms and urges visitors and employees to be cautious. Langley also said there is an emergency preparedness plan in place where Silver Oaks is able to keep their residents' families aware of everything.
"It's difficult for families, I know," Langley said. "We even check visitors' temperatures and I understand that can take time. Our residents are our top priority and their lives are precious. We are doing everything possible to make sure we take care of them."
CAVHS is implemented screening questions at all facilities on Tuesday to ensure that Veterans, employees and the public are protected from High Consequence Infections like flu and coronavirus.
"All Veterans who have flu-like symptoms such as fever, cough and upper respiratory illness should call their clinic or the after hours nurse triage line at 501-257-2006 before visiting a facility or a local clinic, or present to the Emergency Department, local ER or urgent care facility," the release states. "Veterans are being asked to limit visitors to immediate family members or designated caregivers."
Anyone entering a CAVHS facility will be asked three questions:
• Do you have a fever? Do you have a worsening cough or flu-like symptoms?
• Have you traveled to China, Japan, Italy, Iran or South Korea in the last 14 days?
• Have you been in close contact with someone, including health care workers, confirmed to have the coronavirus disease?
Access will be limited to specific entry points at all facilities. At John L. McClellan Memorial Veterans Hospital in Little Rock, screening points will be set up at the main entrance, the south entrance and the Emergency Department entrance. After hours screening will be at the Emergency Department entrance. At the Eugene J. Towbin VA Medical Center in North Little Rock, all traffic will be directed to screening points set up in the parking lot off Cypress Street from 5:30 a.m. to 7:00 p.m., Monday through Friday. After hours and weekend screening will be at the north entrance to building 170.
"We apologize for any delays or inconvenience this screening may cause," said Dr. Margie Scott, Medical Center director. "We are doing all we can to protect our Veterans and employees while providing excellent medical care. We're asking for patience and understanding during this outbreak."
In addition to calling first, Veterans are asked to consider using virtual care options such as telehealth, VA Video Connect or MyHealtheVet secure messaging.
Visitors who do not feel well are being asked to postpone their visit and to read the VA's latest information on COVID-19 at https://www.publichealth.va.gov/n-coronavirus/
Sponsor Content
Comments