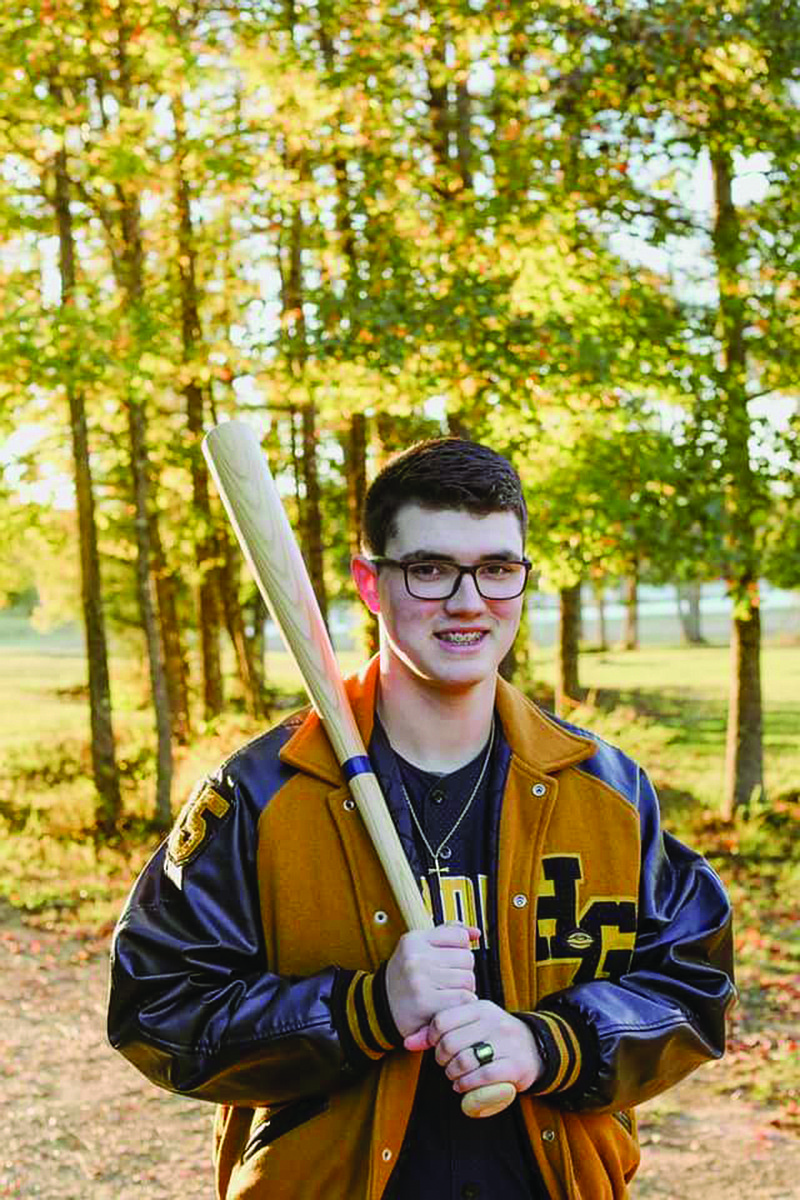 CAMDEN — By PATRIC FLANNIGAN
Sports editor
"Not everything that is faced can be changed, but nothing can be changed until it is face." - James Baldwin.
Harmony Grove senior Davin Skidmore had to face a significant change just a year ago from last Sunday. What started as a normal day at practice resulted in a life altering event. Skidmore would never be the same and given his situation, it would be hard to imagine anyone blaming him if he decided to walk away from the game he loved.
But for Davin, it was a no-brainer. He was going to get back on the diamond despite the obstacles set before him. Now with the season suspended, he and his mother - Mary Beth Olvey - took time to reflect on his journey back to the game he loved.
On March 22, 2019, Davin joined his baseball team for their first practice over spring break. Davin had a reason to feel excited about the season. He had just received the "practice chain" that is awarded to the hardest working teammate after the last practice and was just given the black road jerseys for the away games.
"Baseball meant the world to me," Davin explained. "I've probably had a baseball in my hands since I was two. Mom signed me up for T Ball when I was three. I have a lot of good memories from when she would take me to the Texas Rangers games and my favorite players would hit a home run. I wanted to be like that. It just something about when you step foot in the dug out. It's a different world."
Davin was running through drills with his teammates when the incident happened.
"We were doing out daily outfield drills when we catch the ball over our shoulders. We started doing what we call a Z Drill when you run to the right and adjust the other way to catch the ball then you have to hurry up to get back in line. I'm the tallest on the team so it's hard for people to see around me. I remember hearing coach say 'go' and one of my teammates saying 'duck' at the same time I turned around and I got hit"
Davin said that he remembers ringing in his year but had to rely on what his teammates told him after he was hit.
"All I remember is waking up and looking at a blue sky with three people standing over me," Davin recalled. "They told me I fell down after I got hit."
Mary Beth received the call while she was at work and thought that it would be the type of baseball injury Davin could recover from quickly.
"They called me and told me that Davin had gotten hit," Mary Beth said. "I got to practice and picked him up to take him to the ER. At the time, we were just thinking he had a broken nose."
Mary Beth said that apart from the bruising, Davin seemed like he was okay. But things took a serious turn just before arriving to the Ouachita County Medical Center.
"We got to the red light by the hospital and he said, 'Mom, I can't see. My right eye is black," Mary Beth said. "That's when the panic set in. We got him to ER and they took him straight to triage. We weren't there long before Dr. (William) Dunn told me we needed to get him to Arkansas Children's Hospital. He said he tried to look in Davin's eye and he couldn't see anything"
Davin was transferred via ambulance to ACH where they discovered his orbital bone was broken in three places along with his nose being broken in two places. After being released, they were told they would need to come back for follow up appointments. That's when they found out that Davin's eye was permanently damaged. His iris was detached and could be reattached but the optomologist told them there was a huge risk of infection. His retina was damaged as well."
"His vision is 20/200 without the glasses and 20/70 with the glasses. He's legally blind," Mary Beth said. "I was upset about the diagnosis and I cried. That meant his depth perception was off and his sight would kinda jump. He's going to be sensitive to light. The doctors put everything in perspective for me. They told me I should be proud because he could've lost his eye."
"They told me if the ball would have been a centimeter higher, I would've lost my eye," Davin said.
The injury would lead to Davin making the difficult decision to forego his senior year of football with spring practices starting just a month after his injury. Mary Beth shared that Davin attempted to practice but felt pain and HG Football Coach Ernie Horstkamp was willing to work with him. Instead, Davin chose to use the summer to get back to the sport that he loved first: baseball.
"I don't think he had a second thought about getting back on the field," Mary Beth said. "He spent the whole summer in the batting cage and hitting the ball off the tee. His perifial vision was still pretty good… I think we all were kinda nervous about it but Davin was gung-ho about playing baseball again. Coach (Blake) Williams has been so supportive."
Davin's first baseball practice of his senior year was challenging to say the least.
"It was windy," Davin recounted. "I played out in the outfield and coach would hit pop flies and I had trouble judging the ball. That was something that used to be natural for me."
Davin was also embattled with the sun - saying that when the sun is out it feels like he "can see the whole world" but the moment the sun ducks behind a cloud, it's extremely dark. He has prescription shades that he can use to help with his vision during games.
Davin would show progress though and inspire his teammates with his play. Davin shared how he made his mother worried after making a dangerous play during practice.
"We were doing this drill called balls off the wall where we practice catching the ball off the fence. You are supposed to run to it and a teammate is supposed to yell "fence" when you are about ten steps from it. Again, I'm taller so my stride is hard to judge and my teammate yelled "fence" when I was about a fingertip away. I hit the wall. My glasses went one way and the ball went the other. I knew the wall was coming but I just wanted to catch the ball."
"He wasn't apprehensive at all and sometimes we really wish he was," Mary Beth joked. "I thought he would be scared of the ball."
One of the things that encouraged the family in getting Davin back on the field is the communities support. Mary Beth shared that when she isn't at practice or a game, other mothers are there to check on Davin. When the injury happened, the community reach out with prayer and food. The coaches stayed in constant contact with Mary Beth as well.
"That helps me feel better about him playing," Mary Beth said. "That support system is amazing. The doctors were amazing… Being a mom, we always want to fix everything. We just took it a day at a time and we learned to adapt. I didn't wanna let him drive again, but life goes on. The doctors told me you can live a normal life with one eye but you cant live a normal life with out any eyes so protect that eye."
Mary Beth said that Davin doesn't take it for granted. He uses safety goggle when he cuts grass now and since he has always sat near the front of the class that wasn't a big adjustment.
Earlier this month, the world was thrown a curve ball with the coronavirus pandemic. School has been suspended and so has the baseball season. There are still hopes that the season will start back but if it doesn't, Davin can say he accomplished his goal.
On March 2, 2020, Davin tallied an RBI. Davin made it back on the field.
"I'm proud of him," Mary Beth said. "We are hoping and praying that the baseball season is able to continue. It hurts a mother's heart knowing your son worked so hard to get back out there for his senior season. Hopefully they will work something out for them to be able to play even if its in the summer. Still I'm so proud of him. How many baseball players do you know with one eye? That's my son."
Sponsor Content
Comments