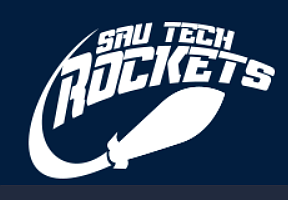 CAMDEN — NEWS RELEASE: April 30, 2020, marked the second SAU Tech Rocket Athletics Induction Ceremony for the College. Dr. Jason Morrison, during a Facebook Live event, announced the 2020 inductees and thanked the community for all the support given in the last few years for the new NJCAA athletic programs started by SAU Tech.
After taking the job of SAU Tech's Chancellor, Morrison made state news with his plans to implement NJCAA athletics at SAU Tech. In the '70s and 8o's, the College had an NJCAA gymnastics and men's basketball with the women's gymnastics winning national titles. The revival of men's basketball and the addition of women's basketball and softball garnered support and excitement from both students and the community.
In 2019, during the SAU Tech Foundation's Rocket Night fundraiser, Morrison inducted the first-ever Rocket women's basketball team, the first Rocket Cheer Squad, the first Rocket men's team, and the 1984 gymnastics team into the SAU Tech Rocket Athletics Hall of Fame. This year due to the COVID-19 restrictions, the event was streamed via Facebook. The ceremony started with Morrison expressing his gratitude for all the community support in making the first-ever SAU Tech Rocket Softball team a reality. He also thanked softball coaches Philip and Amy Diehl and Vice Chancellor for Student Services and Rocket Athletic Director, David McLeane. The inductions included the first-ever SAU Tech Rocket softball team members below, along with the team's coaches, assistant coach, and team manager.
• Mackenzie Ailsworth
• Jasmyn Copeland
• Krystin Cunningham
• Synthia English
• Brianna Everett
• Marley Johnson
• Raegan Keith
• Madalyn Lee
• Henessae Shavers
• Laykin Smallwood
• Makenna Smith
• McKenzee Thomas
• Marlee Tomerlin
• Ciara Victor
• Co-Head Coaches: Philip & Amy Diehl
• Assistant Coach: Aric Diehl
• Manager: Aleah Faith Diehl
The Rocket Softball team was ranked #1 in NJCAA Region 2 Division II play when the season abruptly ended due to COVID-19 precautions enacted by the NJCAA ending play and practice for the season. Philip and Amy Diehl thanked Morrison for all his support and vision and the team of girls that played during the short season.
The ceremony also included the indication of the 1985 gymnastics team listed below, along with their coach:
• Mitzi Bartek
• Rita Welch
• Shannon Conlon
• Donna Farrel
• Penny Cayer
• Deby Hill
• Kathy Patrick
• Tracy Morrow
Mitzi Bartek Harris, a resident of Flowermound, Texas, and a member of the 1984 and 85 teams was unable to attend the event but shared her thoughts about the induction ceremony. Harris stated, "On behalf of the entire gymnastics team, we are truly honored to be inducted into the 2nd Annual SAU-Tech's Athletics Hall of Fame. The staff, student body, and town of Camden always supported, embraced, and treated us all in such a special way. It was a privilege to bring all of them back-to-back National Jr. College Championships! All of our hard work, blood, sweat, and tears were definitely worth our accomplishments and memories we'll cherish forever. Thank you, SAU Tech and town of Camden."
See TECH, Page 3B
Sponsor Content
Comments