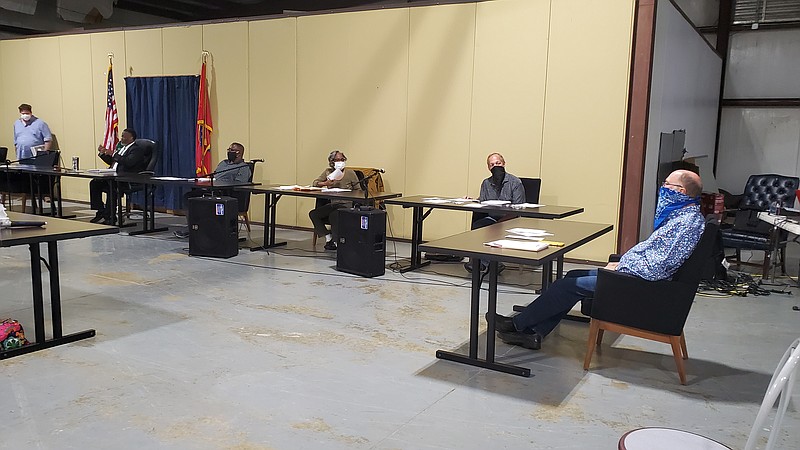 - Photo by Bradly Gill
CAMDEN — By Bradly Gill
News Editor
Aldermen, city officials and members of the media wore masks to Tuesday night's Camden City Council meeting and complied with United States Centers of Disease Control guidelines by socially distancing in the Business Incubator warehouse, where the meeting was held. The meeting was also broadcast on Newstalk 92.7 by Doc Bryce and was livestreamed via Mayor Julian Lott's Facebook account.
Lott delivered his monthly report thanking city workers for their diligence throughout the ongoing COVID-19 public health crisis before addressing several issue he said he perceives among other city officials, local media and residents of Camden. First he mentioned a meeting he was invited to at Allen's Restaurant during his mayoral campaign two years ago.
"I was invited to a meeting, it was nothing official, I was invited to attend and join some members of our city that I believe to be segregationists. The purpose of the meeting was to tell me there was no longer a need for my candidacy," he said.
He also spoke about several story leads pursued by the Camden News, including investigations undertaken by Camden News staff on reader reports of the mayor allegedly using city gas and credit cards on non-official business during a trip to Mississippi; that city workers were cleaning a property that belonged to one of Lott's relatives; and that the mayor had asked for discounts at local restaurants citing his status.
"During the election I avoided social media because the constant rumors and innuendo were too much of a distraction. Though I've returned to social media, the unfounded rumors and innuendos remain. A constant distraction and mere hindrance in my abilities to lead this great city," he said.
"I face countless accusations of wrongdoing by local media. Time after time, I've been investigated for things as foolish and as frivolous as telling restaurant that they have to give me my food free because I'm the mayor," he continued. "The Camden News has investigated me for collection of trash for a property I don't own, and yet another investigation on me for something dealing with my vacation time. Yes, they even investigated my vacation"
"I do not have local media outlets which will faithfully and diligently report the facts, but instead to pursue many of the lies in order to smear my name. All the while they are hindering the progress of this lovely city," he said.
Camden's media outlets include not only the Camden News, but the Radio Works family of stations, The Parham Report and occasional reporting from THV Chanell 11.
Lott continued, referring to questions raised at previous city council meetings about driving a police personnel vehicle. Camden's mayor has historically been granted use of a Camden Police Department vehicle.
"One Alderperson stated the vehicle I currently drive is not a police vehicle, or one that would be needed for police type work. Well, have you changed your mind after learning our chief of police is driving the same vehicle I drive?" he said. "They are nearly identical vehicles except one is colored black and the other is colored white. So, which is that you really have a problem with, is it really the type of vehicle, or is the person driving it that is giving you problems? I find these accusations so outlandish that I rarely even offer a defense for them."
He then levied accusations that a member of his administration was colluding with others to undermine his authority to lead.
"A rumor once surfaced that I planned to fire every employee once I was elected. I went on the radio to address this rumor, while I was trying to situate myself as the mayor. That rumor was not true, but everyone should know any Mayor of Camden may, within reason, select his or her own staff. I should never be forced to commit to a staff that is not committed to the administration's scope," he said.
"I am very much aware that one of my key personnel is working with you to demean, discredit and and contradict my administration. Insubordination, dissension and defiance will not be tolerated. Arkansas is an employment at will jurisdiction. Unless there is a contract stating otherwise, I can fire you or any person for any or no reason as long as I am not breaking any EEOC (Equal Employment Opportunity Commission rules). Consider yourself warned," he added.
Resolution 15-20, authorizing Lott to enter into a contract with the Ouachita Partnership for Economic Development to provide certain economic development services for the City of Camden was discussed again Tuesday. The resolution put the contract total at $75,000 to be paid to OPED from the city. An alderman and OPED Executive Director James Lee Silliman said the organization had expected the contract to be for $150,000, double what the resolution laid out.
During his mayor's report, Lott said he blamed the ongoing OPED funding issue and lack of agreement among council members on racism he is facing in his role as mayor.
"The funding of OPED was a rather hot topic at our last city council meeting and I can blame nothing but racism and segregationist ideas on the disrespect and disregard that some of our city council members have displayed. Sadly many votes cast by our city council members still fall upon the racial divide," he said.
During the resolution's discussion, Alderman L.E. Lindsey attempted to contradict the mayor's accusations of racism among council members.
"Despite all your waving the race card around-" he began, before being cut off.
Lott and Lindsey had a brief exchange before City Attorney Michael Frey cut in, saying Lindsey had a right to weigh in and noting that Lott had finished delivering a 15-minute speech a few minutes prior.
"It's the mayor's report; I have a right to make a speech," Lott said.
"He's an elected council member like you are an elected mayor," Frey answered.
Lindsey asked Lott about a November 6 budget committee meeting with the Ouachita Partnership for Economic Development in which the city providing $150,000 for OPED's operating budget was discussed.
"I wasn't there or a witness, but I was told you said yes," Lindsey said.
Silliman said a budget was drawn up at the end of 2019 with the assurance from the city that $150,000 would be available.
Documents emailed to the Camden News shows the Mayor Lott was present for the November 6 budget meeting in question and shows the 3 items from the city totalling $150,000. A followup email was sent to committee members, including Mayor Lott that read in part,"Attached is the proposed budget with changes made(highlighted) per committee, please look over your notes and attached budget to make sure corrections where made properly per committee recommendations. If you should have any questions please do not hesitate to give me a call and please respond back if you are good with attached budget."
When asked if they received a response Silliman said, "To my knowledge she didn't receive any objections on what she sent out."
Another Alderman talked about the differences in opinion he and Mayor Lott had in how to handle Economic Development.
"I realize you haven't gotten, how should we say, as good of a break as some other people have, but I have a question and I really would love a straight answer for it. I disagree with you on this, and we agree on many things. And I don't disagree with you on the notion that, yeah, we don't need to just rely on the defense industry. We disagree on the best way to go about that and that's fine, that's why we're all here, to discuss it and find a way forward, but I don't like the notion that anyone that disagrees with you is a segregationist," Alderman James Bell, who sits as an ex-officio member of OPED appointed by Mayor Lott, said. "That was hurtful. I feel like we've always been able to be honest and I feel like if I had a problem with you I came to you. I didn't air it publicly. I feel like we had a good rapport"
"I apologize if I talked that long and all you got out of it was that," Lott said.
Bell asked Lott what some of his ideas for Economic Development included and Lott said that the Ouachita River could be used to entice more businesses and that the current leadership of OPED had a "defeatist attitude" that businesses would not relocate and he would like to see that change.
Bell put forth a motion that the resolution be amended to provide $100,000.
The motion passed 5-3 with Lindsey, Chris Aregood and Terrie Smith being the opposition.
In other business:
Resolution No. 13-20, an ordinance authorizing the Mayor to enter in a contract for security walls and doors for City Hall was moved to a third reading due to the contractor not being at the meeting.
Resolution No 17-20, a resolution establishing meeting protocol for the City of Camden during times of Nation or Statewide emergency passed unanimously.
During times of emergency, council members may video conference their vote and the meeting would be available to the public via internet streaming services.
It was also announced that the city pool would remain closed, as the city does not have the personnel to make sure everyone maintains social distancing. However, the splash pad would is scheduled to reopen during the summer.
Council Member Marvin Moore also announced The Plant a Seed foundation would not meet this summer due to the difficulty of social distancing.
Sponsor Content
Comments