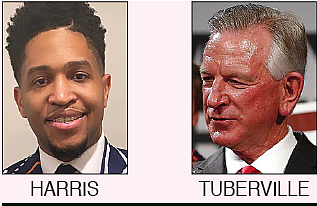 CAMDEN — By Patric Flannigan
Staff writer
The 2020 election saw two Camden native beat incumbents in surrounding states. In Alabama, Tommy Tuberville was elected senator over Doug Jones by a tally of 1,381,938 to 904,683 and in Tennessee Torrey Harris won the District 90 State Representative Seat over John Deberry with 79 percent of the vote to become Tennessee's youngest lawmaker in the states history at 29 years old.
Deberry served as the District 30 representative for 26 years.
"No longer are the days of voting on party lines or name recognition," Harris said via Facebook. "People deserve a choice. The choice to live amazing full lives were stolen from so many black people. I dedicate this win to those many, many BLACK lives. Choice should not be stolen from us, not in healthcare, not in women's rights, not in racial equality and justice, not in public education, not in transportation, not in environment, not in personal life of happiness, not in criminal justice, not in the workplace. District 90, it's only up from here."
Harris moved to Memphis in 2011 and almost immediately became involved in the community. He is a Christian Brothers University Buccaneer, New Memphis Alum, treasurer for Shelby County Young Democrats, member of Alpha Phi Alpha Fraternity, Incorporated, NAACP, Memphis Urban League, Rainbow PUSH Coalition, Board Member for CHOICES Memphis Reproductive Health & Birth Center, Board Member for Friends For Life Corporation HIV/AIDS Care & Prevention Services. Black Business Association of Memphis and other community-based and national organizations.
Tuberville was born in Camden in 1954. He enjoyed a successful career in college football being named Coach of the Year in 2004 and twice being named the SEC Coach of the Year. He was inspired by his father, Charles, who was a decorated WWII veteran and Purple Heart recipient to five back to the United States Armed Forces. He became involved in politics shortly after resigning from coaching while at Cincinnati. He then went on to establish the Tommy Tuberville Foundation for American veterans.
Last July, Tuberville defeated former Senator Jeff Sessions to win the Republican party's nomination for the position.
Sponsor Content
Comments