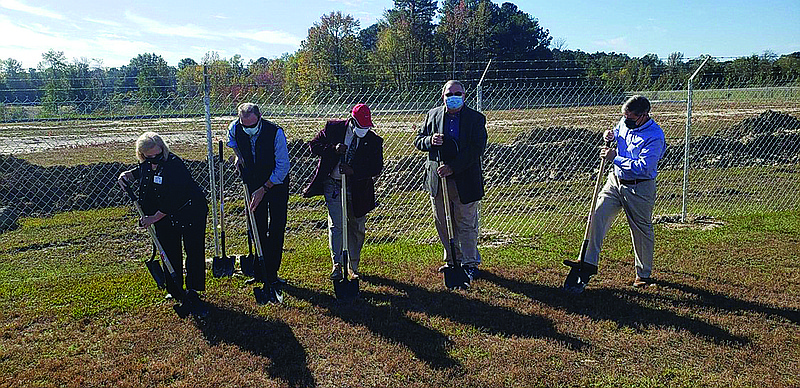 Photo via Doc Bryce Breaking ground Pictured from left is Ouachita County Medical Center President Peggy Abbott, Camden Water Utilities General Manger David Richardson, Camden Mayor Julian Lott, Ouachita County Judge Robert "Robbie" McAdoo and Scenic Hill Solar CEO Bill Halter as they break ground for a new solar project. The project is the first solar city and county parentership in the state and is a $6M investment in the community. - Photo by Via Doc Bryce
CAMDEN — By PATRIC FLANNIGAN
Staff writer
A groundbreaking ceremony was held to commemorate a partnership that will lead to local savings and economic development.
Ouachita County, the City of Camden, Camden Water Association and the Ouachita County Medical Center were able to enter into a project with Scenic Hill Solar.
SHS CEO Bill Halter welcomed everyone to the event and applauded Camden and Ouachita County for its progressive efforts.
"This is the first city-county combination in the state of Arkansas who's governmental entities are targeting 100 percent renewable energy," Halter said. "It is truly the case to say Camden and Ouachita County will be leading into the 21st Century with a clean renewable source of electricity. But that's not all. OCMC, Camden Water Utility will save dollars for the next 30 years into the future. All of those organization will have the opportunity to purchase these plants in the beginning of the 8th year in operation."
Halter explained that SHS is investing more than $6M into the local economy which will contribute to the property tax base and local jobs.
"It's laying down a marker for the world to see that this community recognizes the way of the future and is embracing it." Halter said.
Camden Mayor Julian Lott spoke about what the solar project says about the potential of the community and how its visibility sends a positive message to visitors about Camden and Ouachita County. He also shared that SHS's legal support for Camden and Ouachita County will allow for its entities to be "grandfathered in while others are fighting for what we are trying to do"
Camden Mayor
"I just want to say again how grateful I am to be in a collaborative with my own community," Lott said. "Judge (Robert) McAdoo has been a champion as well as Mrs. Peggy Abbott and of course I'm grateful for David Richardson and how hard we've worked. It's taken quite some time to get here but to be able to look at the corridor of our city coming in and to see the progress would mean a lot to our community."
CWA General Manager David Richards then spoke about the two years it took to get the project off the ground.
"I'm excited about working with the City of Camden, Ouachita County and the hospital on this venture," Richardson offered. "I just look forward to the day that we can flip the switch and start reaping the benefits of our savings here"
OCMC President Peggy Abbott shared that she had expressed to McAdoo in years past how much of a dream it has been for the hospital to one day have solar energy. She thanked everyone for their involvement and explained how the project shows how much the hospital cares about the community.
It takes a village and that's a phrase that's probably been overused," Abbott said. "But I'm very proud to be a part of this village and a forward thinking team. We are moving into the future making sure that Ouachita County is a part of the 21st Century. We're showing progression and I feel that at OCMC we are the sole community provider and we are charged by our citizens to be good stewards financially. I think this step forward with solar and renewable energy is a step to be good stewards of our finances and also of our environment."
McAdoo spoke next and talked about all of the positive impacts the project will have in regards to economic development and thanked the Ouachita County Road Department for their work clearing off the land.
"I got two words: Save money," McAdoo said. "That's what this opportunity is going to allow us in Camden and Ouachita County. It's been two years coming but now we are about to see that work coming up. I want to say thank you to Bill and his team at Scenic Hill for their work on this. Also need to give a shout out to Ouachita County Road Department. They have really took this by the horns and led in getting our lands ready for this opportunity. We're needing a spark in Camden and Ouachita County. A spark that will make people say 'aha!' as they enter in from the south and see the renewable energy here then they go over to our med center and see the renewable energy at our med center. They are going to think 'hey this is a progressive thinking community.' The economic development impact is huge. I don't know how big it's going to be but we already know that $6M has come into our community from Scenic Hill… I hope this project says to people looking at Camden, 'I want to go there. I want to bring my business there and raise my family there… If we are saving money on electricity then we have more money for road work and beautifying our county. Our people are going to be able to see the impact when new things start happening in their communities… Renewable energy is here to stay."
Sponsor Content
Comments