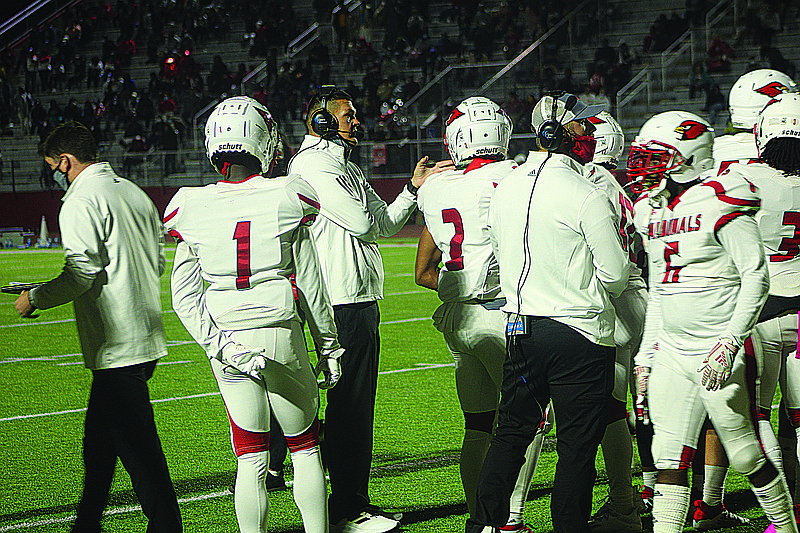 CAMDEN — By PATRIC FLANNIGAN
Sports editor
The Camden Fairview Cardinals (5-4, 3-2) are finally set to return to the football field this Friday night when they take on the Beebe Badgers (2-6, 2-3) in the first round of the 5A State Playoffs.
CF has had the last two Friday nights off. Week 10 was scheduled as a bye week before the pandemic but a Week 9 cancellation against Hot Springs due to the latter having complications with COVID led to the Cardinals looking for an opponent last week. The Cardinals were able to use the two weeks off to get healthy and prepare for the playoffs.
The Beebe Badgers last met the Camden Fairview Cardinals in 2012 and lost 70-20 ironically in the first round of the playoffs. CF fans are hoping the irony continues as that was also the same year the Cardinals went on to capture the 5A State Championship. The two teams also played each other the year before in the second round and CF won 56-17.
Beebe is in its second year under Chris Gunter. They operate out of a multiple offense and a multiple defense and are one of the youngest teams in the 5A classification only returning four starters on both sides of the ball from 2019.
The Badgers are averaging 17 points per game while allowing 42 points per game. Its two wins on the season came against Little Rock Hall and Jacksonville who have a combined conference record of 2-10.
While the Badgers have had a tough year, they aren't a team to overlooked as they played in the tough 5A Central conference. The 5A Central has claimed the last six 5A State titles.
Sponsor Content
Comments