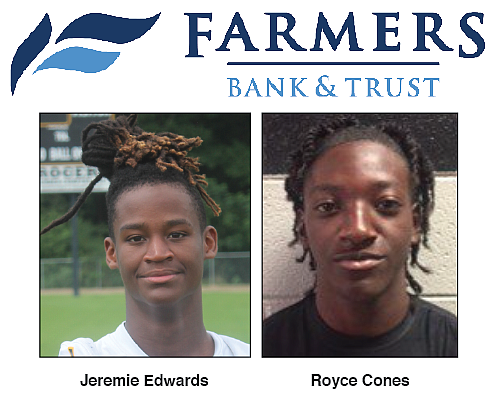 CAMDEN — By PATRIC FLANNIGAN
Sports editor
This week's Players of the Week are sponsored by Farmers Bank & Trust. While many student athletes put in hard work for their teams, two student athletes were chosen for the honor.
Harmony Grove's Jeremie Edwards scored two rushing touchdowns for the Hornets in their 42-6 win against the Barton Bears. Edwards also lined up at safety for the Hornets.
Bearden's Royce Cones played valiantly on the defensive side of the ball for the Bears against the Fordyce Redbugs. Despite being a sophomore, Cones was in the middle of several tackles against the Redbug's heavy backfield and talented skills players.
Honorable mention
Harmony Grove's Defense forced two early turnovers against the Barton Bears and also came up with a safety in the second quarter.
Harmony Grove's Caleb Johnson had a 34 yard touchdown run early in the game against Barton. The freshman quarterback got his first varsity start of the season.
Bearden linebacker Kamari Cruz stuffed the middle for the Bears throughout the night against the Redbugs forcing the defending 2A Champions to run and throw the ball outside most of the game.
Sponsor Content
Comments