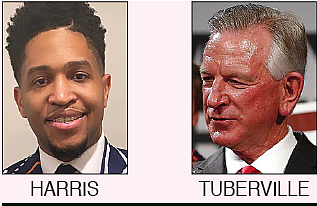 CAMDEN — The Camden News spoke with two newly elected officials shortly after this week's election.
In Camden, Cecil McDonald defeated Willie Cooper and Sandra Lee in the race for Camden Alderman Ward 3, Position 2 and William McCoy defeated Scott Bodenhamer in the race for Camden Alderman Ward 2, Position 1.
"I'm plum picking happy," McDonald said Wednesday morning. "I'm just excited to get to work. I'm thankful to my opponents. We were able to run a clean election. I'm ready to represent. I thank everyone that voted for me and anyone that voted no matter who they voted for."
"I thank everyone that supported me," McCoy said. "My ward has known me my whole life and I'm thankful that they voted for me based off of my work with the school and in the community. I want to say that Mr. James Dishroom taught me how to be a good neighbor and taught me about serving the community. He used to be the alderman for the ward when I was younger. I'm going to make sure that I do a good job for this ward and for the City of Camden because I want to see everyone here do well."
In other local races, Chidester Alderman Ward 1, Position 1 saw John Gosvenor receive 70 votes to Jessica Clay's 58 and East Camden Alderman Ward 2, Position 2 saw Thurnell Green defeat Steven Hiller with 189 votes to 97 votes. Stephens Alderman Ward 2, Position 2 saw Charles Williams win over Terry Cox with 172 votes to 61.
Constable for Bradley township went to Anthony Grummer with 568 votes to challenger George Wilkerson's 194.
Voting to keep the Confederate Monument on the courthouse ended with 6,539 in favor of keeping the monument and 2,871 against keeping the monument
Bearden results:
CITY COUNCIL, WARD 1, POSITION 2
Sherry Hiller 26
Carolyn Pate 19
CITY COUNCIL, WARD 2, POSITION 1 10
Melvia Buckley 31
Leon Coston 2
Ronnie D. Quarles 12
The 2020 election also saw two Camden natives beat incumbents in surrounding states. In Alabama, Tommy Tuberville was elected senator over Doug Jones by a tally of 1,381,938 to 904,683 and in Tennessee, Torrey Harris won the District 90 State Representative Seat over John Deberry with 79 percent of the vote to become Tennessee's youngest lawmaker in the states history at 29 years old.
Deberry served as the District 30 representative for 26 years.
"No longer are the days of voting on party lines or name recognition," Harris said via Facebook. "People deserve a choice. The choice to live amazing full lives were stolen from so many black people. I dedicate this win to those many, many BLACK lives. Choice should not be stolen from us, not in healthcare, not in women's rights, not in racial equality and justice, not in public education, not in transportation, not in environment, not in personal life of happiness, not in criminal justice, not in the workplace. District 90, it's only up from here."
Harris moved to Memphis in 2011 and almost immediately became involved in the community. He is a Christian Brothers University Buccaneer, New Memphis Alum, treasurer for Shelby County Young Democrats, member of Alpha Phi Alpha Fraternity, Incorporated, NAACP, Memphis Urban League, Rainbow PUSH Coalition, Board Member for CHOICES Memphis Reproductive Health & Birth Center, Board Member for Friends For Life Corporation HIV/AIDS Care & Prevention Services. Black Business Association of Memphis and other community-based and national organizations.
Tuberville was born in Camden in 1954. He enjoyed a successful career in college football being named Coach of the Year in 2004 and twice being named the SEC Coach of the Year. He was inspired by his father, Charles, who was a decorated WWII veteran and Purple Heart recipient to five back to the United States Armed Forces. He became involved in politics shortly after resigning from coaching while at Cincinnati. He then went on to establish the Tommy Tuberville Foundation for American veterans.
Last July, Tuberville defeated former Senator Jeff Sessions to win the Republican party's nomination for the position.
National
Incumbent Sen. Tom Cotton received 5,787 votes in Ouachita County and had won 788,490 votes in Arkansas , while his challenger, Libertarian Ricky Dale Harrington, Jr., received 3,529 votes in Ouachita County and 394,241 statewide.
Rep. Bruce Westerman (R-04) defeated challengers William Hanson (D) and Frank Gilbert (D) with 189,901 total votes by press-time for Westerman; 74,777 for Hanson; and 7,598 for Gilbert. Ouachita County turned out 5,443 votes for Westerman; 3,854 for Hanson; and 199 for Gilbert.
Arkansas ballot measures:
Issue 1, which will make permanent a .5% sales tax for state, county and city roads, passed with 653,706 For votes counted statewide versus 528,816 Against votes counted. In Ouachita County, 5,420 votes were cast For Issue 1 and 3,997 were cast Against it.
Issue 2, which would eliminate lifetime term limits for Arkansas legislators, passed with 641,844 For votes counted statewide by press-time versus 517,833 Against votes counted. In Ouachita County, 5,467 votes were cast For Issue 2 and 3,921 votes were case Against it.
Issue 3, which would alter the citizen-led ballot initiative process, failed, with 632, 769 Against votes counted statewide by press-time versus 492,413 For votes counted. In Ouachita County, 4,98,742 votes were cast Against Issue 3 and 4,230 votes were cast For it.
Sponsor Content
Comments