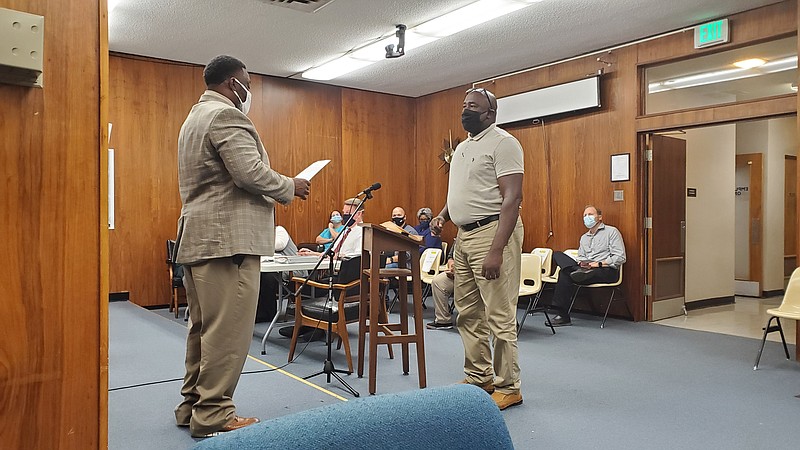 Photo by Bradly Gill: Camden Mayor Julian Lott swears in Willie McCoy as Alderman for Ward 2, Position 2 at Tuesay night's Camden City Council meeting.
CAMDEN — By Bradly Gill
Camden News
Alderman Willie McCoy was sworn in early Tuesday night at the Camden City Council Board of Alderman's regular monthly meeting. McCoy won the seat for Ward 2, Position 2, and would normally have been sworn in in January, but Alderman Chip Simmons vacated the seat at the the last city council meeting.
The board unanimously approved resolution 35-2o, which appointed an alderman to fill the vacancy and McCoy was summarily sworn in by Camden Mayor Julian Lott.
Alderman Joe Askew welcomed McCoy to the City Council saying, "As an Alderman of Ward 2, I am really looking forward to working with you. There's a lot of work to be done, as you know. But I just want to congratulate you and welcome you to this council."
During audience participation Danny Glaze approached the podium and tendered his resignation as forestry manager for the Camden Airport Commission saying, "I represent Green Pine Timber Company here in Camden, Arkansas. I am a contracted entity here in the city of Camden to provide services for all of the lands at the airport in Camden, Arkansas. As of this morning I was informed by a person that there were trees to be cut at the end of the runway."
Glaze went on to stay he was aware of the trees, but was never reported back to by the commission. Glaze stated that he called an airport commissioner to see what the FAA ruling was.
"He, at this point in time, informed me it was already being taken care of by a logger, that the commission had planned to clearcut that 25 acres and as of that time, I do not know if I had been relieved of my duties. If this is the case, there's fixing to be a law broken, because as far as I know there haven't been bids taken," Glaze said.
Glaze said that he felt he was being dismissed and that his contract stated he needed two weeks notice prior to dismissal, which he said he had not received.
"With that being said, I'm going to solve the problem for you. I tender my resignation tonight for the forestry," Glaze said, "but here is what I'm going to tell you. As far as I know, there is not one commissioner out there that has a degree in forestry or a licence to practice forestry. They do not have the ability to run the things that need to be run out there, but they have decided they are going to do this apparently to me."
In other business,
• Resolution 17-20, an ordinance amending Ordinance 19-86, regarding the Airport Commission passed with only Alderman Askew abstaining from voting. The ordinance will now allow a representative from the city to attend Airport Commission meetings as a liaison between the Mayor and the Airport commission.
• Resolution No. 21-2o, a resolution requiring certain materials to be posted on the City Website, passed unanimously. Now the city financial records and the information packet received by Aldermen will be available on the city of Camden's website.
• Ordinance No. 41-20, an ordinance repealing Ordinance No. 02-14 assessing a lien on certain property located at 555 Grinstead Street SE, was amended and the property owner now owes the city $590.
• Resolution No. 32-20, a resolution approving the appointment of Mike Smith to the Water & Sewer Commission was approved. Smith is replacing Buddy Morgan.
• Resolution No. 33-20, a resolution authorizing the payment for a portion of salary for the 39th Arkansas Judicial District Court Judge was approved. The City will now contribute a smaller portion of salary, as the state is paying some of the salary as well.
• Resolution No. 34-20, a resolution amending Resolution No. 34-10; Setting policy for employee health insurance benefits; and for other purposes was approved.
Sponsor Content
Comments