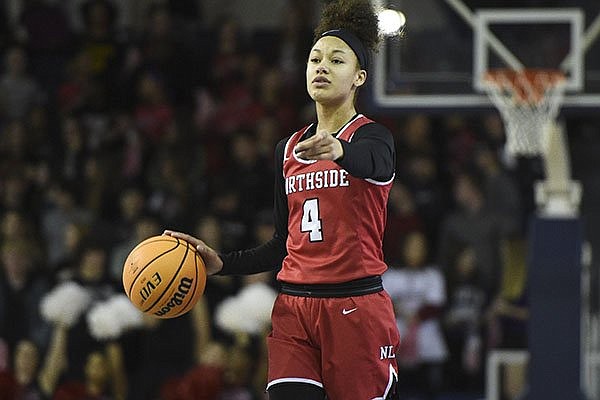 CAMDEN — ESPN 5-star guard prospect Jersey Wolfenbarger of Fort Smith Northside signed with Arkansas on Wednesday.
"It was definitely an exciting experience, just seeing all the hard work pay off," Wolfenbarger said. "Getting to share it with all the people that have been with me during this whole process, just sharing that moment with my coaches and my parents was definitely unforgettable."
Wolfenbarger, 6-5, committed to the Razorbacks over more than 30 scholarship offers, including from Oregon, Oregon State, Baylor, Southern Cal, Florida, Mississippi State, Texas, Miami, Notre Dame and other programs.
ESPN rates her the No. 1 wing and No. 7 overall prospect in the 2021 class.
Arkansas Coach Mike Neighbors was the first to offer her during her freshman season. She believes Neighbors and his staff can help her fulfill her potential.
"In every conversation, every practice game, I always felt I got better as an individual regardless if it was on the court of off the court," Wolfenbarger said. "Just being around the team and being around Coach Neighbors and his staff...(I) feel like I was getting better and I think that's what came down to. The ultimate decision maker was I wanted to go somewhere where I could continue to strive to be the best I could be and I felt that way at Arkansas."
Oregon, Baylor, Notre Dame and Oregon State were other programs she heavily considered before deciding on the Razorbacks.
Going into his fourth season at Arkansas, Neighbors is beginning to land more of the top in-state talent. Nettleton's Elauna Eaton, an ESPN 5-star recruit, signed with the Razorbacks last year.
Wolfenbarger hopes the trend of top in-state prospects signing with Arkansas continues.
"I definitely hope I'm able to inspire and encourage others to do what I've done and committing to Arkansas, because I know the players there inspired me to do that," she said. "So I want to be able to return the favor and keep the tradition of Coach Neighbors' program and what he's trying to create alive."
She led the Lady Bears to a 28-1 record and the Class 6A state title as a sophomore while averaging 22.5 points, 3.3 rebounds, 2.5 assists and 1.3 steals per game. She was named Arkansas Democrat-Gazette Player of the Year in 2019.
Wolfenbarger averaged 18.7 points, 6 rebounds, 3.7 assists and 1.5 steals as a junior, and was named Arkansas Gatorade Player of the Year.
Guard Samara Spencer, 5-7, of St. Thomas Aquinas in Fort Lauderdale, Fla.; guard Ashlyn Sage, 6-2, of Weatherford, Okla.; and post player Emrie Ellis, 6-2, of Ada (Okla.) Vanoss are also expected to sign with the Razorbacks on Wednesday.
Ellis and Sage are rated 4-star prospects by Prospects Nation. ESPN rates Samara a 3.5-star recruit.
Sponsor Content
Comments