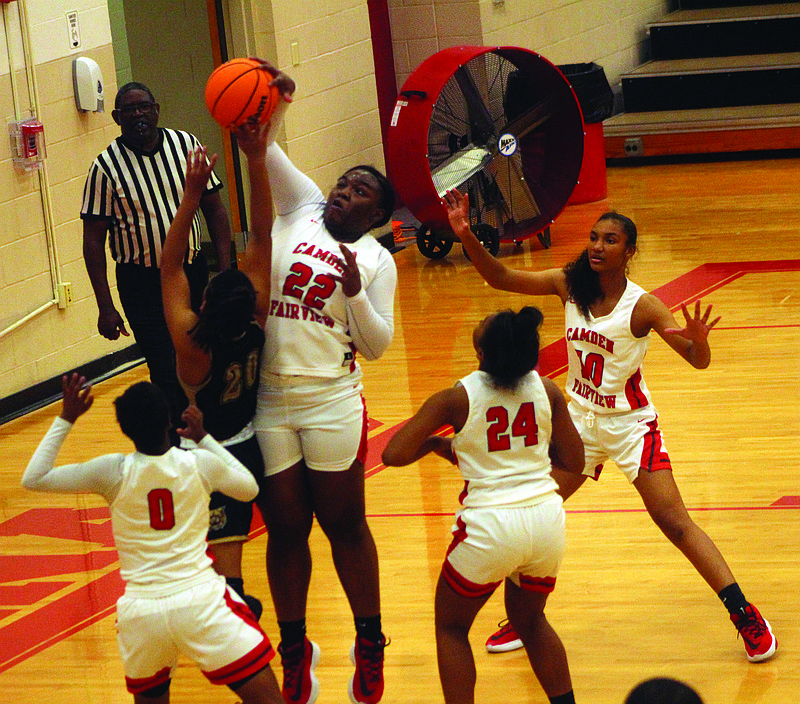 Not in here Jhiya Jefferson blocks a shot attempt in the lane as Nicole Sanders (0), Michaela Griffith (24) and Karmen Johnosn (10) lend held defense. The Lady Cardinals defeated Rison 53-14 in its season opener earlier this week. - Photo by Patric Flannigan
CAMDEN — By PATRIC FLANNIGAN
Sports editor
The Camden Fairview Varsity Lady Cardinals appeared to be in mid-season form when Rison visited The Bird House on Tuesday.
After outscoring the Lady Wildcats, 20-4 in the first quarter, the Lady Cardinals went on to route Rison, 53-14.
CF's starting line up consisted of returning all conference senior student athletes Jhiyah Jefferson and Tamia Dandridge at the post and the post respectively with sophomores Amiyah Davis, Michaela Griffith and Karmen Johnson. The Lady Cards were able to stay fresh with Nicole Sanders, Zaiyia Brown, Gabby Davis, Kylah Hughey and Jakyree Spencer also contributing during the early meaningful minutes of the ball game.
Jefferson controlled the opening tip for the Lady Cardinals and scored the first four points. Dandridge, Jefferson, Davis and Johnson all picked off passes that led to easy buckets in the open court. An overwhelmed Rison team called an early timeout but the Lady Cardinals half court pressure kept Rison off balance throughout the game.
The Lady Cardinals led 41-8 at half time before the sportsmanship rule went into effect in the second half.
Jefferson tallied a double-double with 23 points and 11 rebounds followed by Mya Davis with 8 points and Dandridge and Sanders adding seven points each. The Lady Cardinals will travel to play Malvern on Monday at 6 p.m.
Sponsor Content
Comments