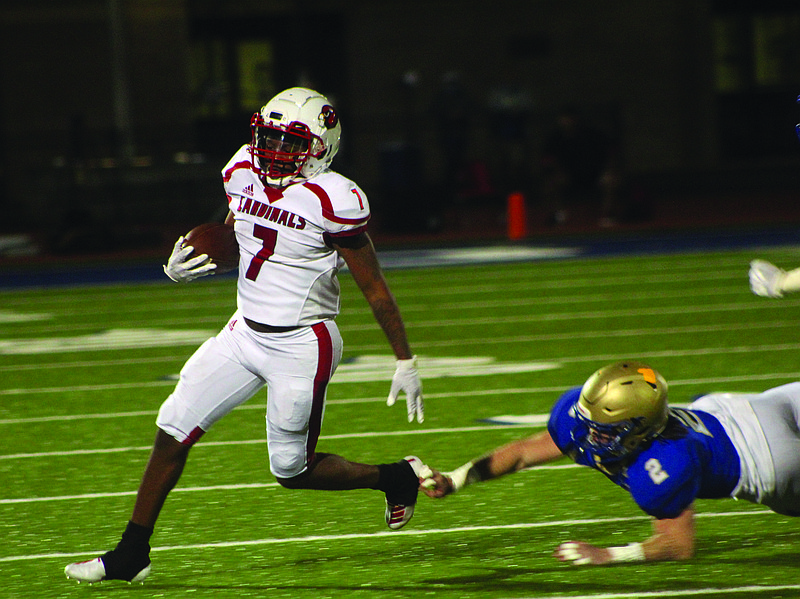 CAMDEN — By PATRIC FLANNIGAN
Sports editor
The Camden Fairview Cardinals pushed the Harrison Goblins to their limit before losing on a 10 yard touchdown run with 21 seconds left in the game that made it 21-14 with the PAT.
The Cardinals rushed for 191 yards against the Goblins during the game and held them to 7/15 passing for 24 yards and two interceptions in the first half. But after its starting quarterback went down with an injury late in the first half, the defense had to adjust to a running quarterback. It didn't help that the opening kickoff of the second half wasn't recovered by the Cardinals, who were leading 7-0 at the half. Harrison would score on the next play on a 33 yard run by sophomore quarterback Beck Jones. Harrison would go ahead on another Jones run from 13 yards out.
The CF offense would finally score after a couple of big runs from Martavious Thomas and then cap the drive with a punishing 16-yard touchdown run by Rashard Clardy.
Camden Fairview's first touchdown came when Jaden Bates returned a 55 yard interception. He finished with two interceptions on the night. CF's football season ends at 6-5.
Sponsor Content
Comments