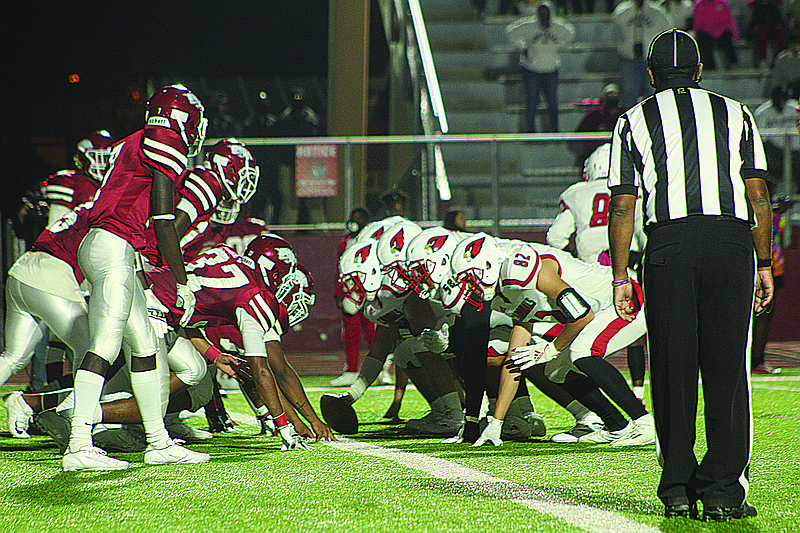 CAMDEN — By Patric Flannigan
Sports editor
Even after a dismal offensive performance from the Camden Fairview Cardinals in the second half, it would take a 35 yard punt return touchdown for the Arkansas High Razorbacks to win, 28-21.
The game was a tail of two halves. At the break the Cardinals found themselves down 21-0 only having a net of 24 total offensive yards. CF had rushed 12 times for 17 yards and were 3/7 for 7 yards in the air. Despite Arkansas High's MLB prospect QB Braylyn Bishop breaking a few big runs, the Razorbacks only had 91 rushing yards with its main running back Torrie Blair only having 23 yards on nine carries. The Razorbacks were 4/7 for 63 yards in the first half as well.
It wasn't that Arkansas High dominated the Cardinals in the first half, it was the Cardinal miscues. On all three of their first half touchdowns, the Razorbacks started in great field position. Arkansas High recovered a fumble on a punt attempt in Cardinals territory and got down inside the 10 yard line. Then Bishop was able to find a receiver squatting in the end zone for a touchdown at the buzzer to go ahead 21-0.
After the Cardinal offense stalled on its first possession, things started to click as sophomore quarterback Martavious Thomas started making plays with his legs as well as his arm. Thomas took off on a quarterback scramble for a 31 yard touchdown. Nasir Khan would add the PAT bringing the Cardinals withing 14 points with 3:29 left in the third.
The Cardinal defense wouldn't allow a Texarkana touchdown in the second half and the special teams got a lift when Jaden Bates blocked a Texarkana field goal attempt at the CF 20 yard line. The Cardinals running game would start to click as Kevin Tate would bulldoze his way for positive yardage behind a Cardinal offensive line that was winning the battle in the trenches. Ultimately, the Cardinals would bring in its heavy package to help Thomas get across the goal line on a QB sneak. Khan's PAT was again true and the Cardinal found themselves only down by 7 with all the momentum and 8 minutes left in regulation.
CF's defense would again rise to the occasion and showed composure as an already emotional game started to get chippy. After the Cardinal defense struggled to get Lakeside off the field on third downs, CF performed much better only allowing three third down conversions the entire game.
The Cardinals offense stayed in rhythm with a balanced attack to get the ball down the field and punch it in when Jacoriae Brown scored on a one yard run. After the Khan PAT the game was knotted at 21 with 1:40 left.
Things would get unsettling almost immediately after when Arkansas High would get a big kick off return and start its drive inside Cardinal territory. However, the hits and pressure on Bishop started to take its toll and he desperate went for a long pass that was picked off by Bates at the CF nine yard line with 40 seconds left. After a false start the Cardinals attempted to run the ball but Arkansas High had all three of its timeouts. CF would have to punt and stayed in a little longer to block to make sure the punt got off and Blair was able to field it with space and break a couple of tackles to score with 3 seconds left. CF attempted a reverse kickoff return but it was stopped near midfield.
The Cardinals ended up with 216 unofficial running yards on 40 carries with Thomas accounting for 93 yards on 14 carries. He would also finish 8/11 passing for 70 yards. Tate would finish averaging 6 yards per carry for 24 yards and Erik Hall would finish with 31 yards on 5 carries. Reshard Clardy had 18 on eight carries with one being a critical 3rd down conversion.
The Cardinals are scheduled to travel to Magnolia to play the Panthers on Friday night as of now.
Sponsor Content
Comments