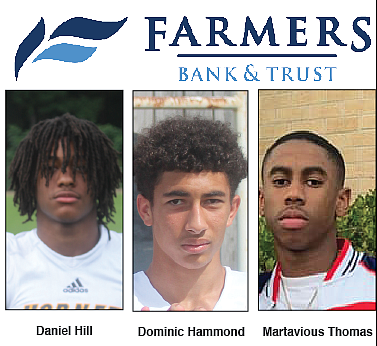 CAMDEN — By PATRIC FLANNIGAN
Sports editor
This week's Players of the Week are sponsored by Farmers Bank & Trust. While many student athletes put in hard work for their teams, three were chosen for the honor.
All of this weeks honorees are underclassmen.
Harmony Grove's Daniel Hill accounted for three touchdowns in the second half of the Hornets 31-6 win against Smackover last week. His first touchdown came on a 20 yard touchdown catch and run. He then added a ten yard touchdown and 57 yard touchdown run.
Bearden junior Dominic Hammond scored five touchdowns in the Bears' 52-26 win over Lafayette County last week. Hammond was 4/5 for two touchdowns and 107 passing yards. On the ground, Hammond rushed 8 times 113 yards and two touchdown. He also had a 64 yard punt return for a touchdown.
Camden Fairview's sophomore quarterback was a spark for the Cardinals in their 28-21 loss against Arkansas High in Texarkana last week. After the team trailed 21-0 at the half, Thomas started the bulk of the second half and led the Cardinals down the field on three touchdown drives. Thomas was 8/11 for 70 yards and rushed 14 times for 93 yards without any turnovers.
Honorable mention:
Harmony Grove's Mecca Arnold scored a touchdown for the Hornets and played a big role in the Hornets two-point conversions.
Camden Fairview Defense shutout out the Arkansas High Razorbacks in the second half. The defense only allowed three third down conversions entire game and two of the Razorbacks touchdowns came on a short field. The defense also held the Razorbacks to a field goal attempt and was able to come up with an interception late in the game to keep the Razorbacks from taking advantage of a long kickoff return.
Bearden's Kendrick Juniel scored four touchdowns for the Bears last week. Two in the air and two on the ground. He accounted for 254 all purpose yards.
Sponsor Content
Comments