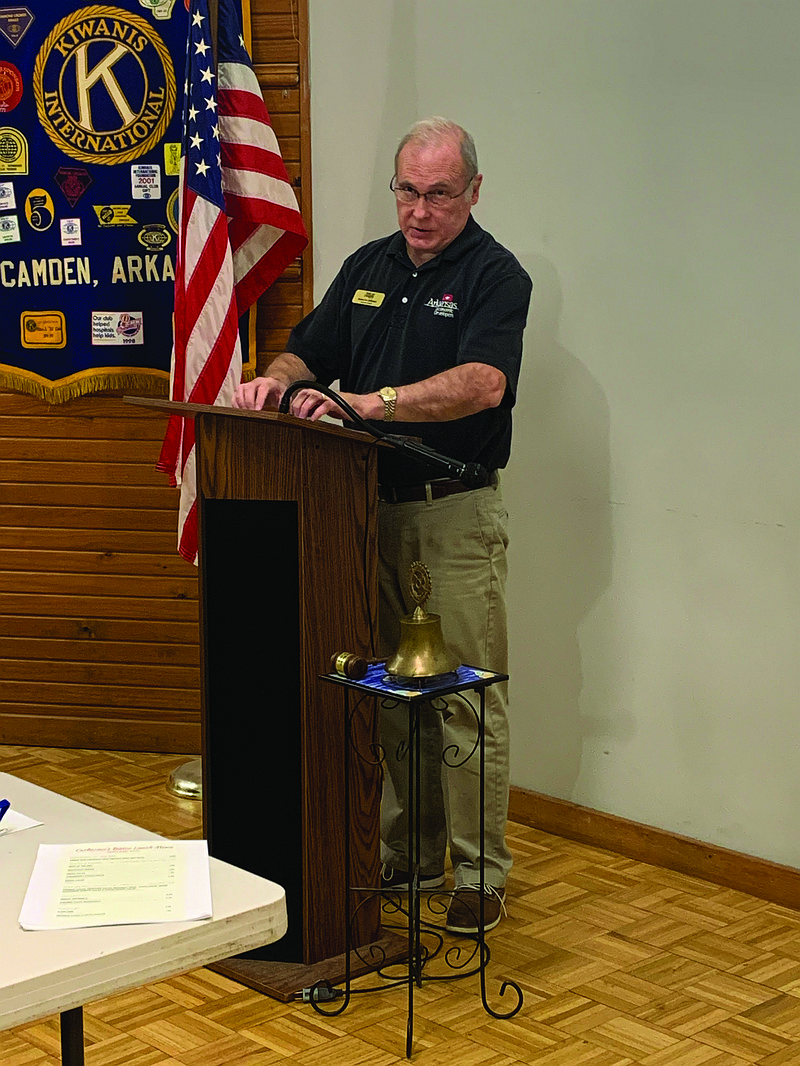 - Photo by Patric Flannigan
CAMDEN — By Patric Flannigan
Staff writer
The Rotary Club held its weekly meeting on Tuesday and welcomed Ouachita Partnership for Economic Development Executive Director James Lee Silliman.
After a warm welcome, Silliman spoke to the club about some of the projects OPED has conducted and the role they have played in the county.
OPED serves as the lead economic development agency and point of contact for businesses and industry. The organization is made up of representatives from Ouachita County, City of Camden, the Camden Area Chamber of Commerce and the Camden Area Industrial Development Corporation. OPED also works along with the Arkansas Economic Development Commission and state government to help bring in prospects.
Silliman presented one of the informal videos that OPED puts together to show potential investors in the area that includes statistics regarding employment, education, population, health services and resources. Then he talked with the club about the OPED packets that were placed at each table. In the packet was a 60 month project review that showed 11 companies and businesses that OPED has worked on projects with to bring employment and income to the area. While some of the projects are still underway, overall the projects have $219.8M in investments and 719 jobs have been created.
Another role of OPED is to promote the opportunities throughout the county. Resources such as Southern Arkansas University Tech, Ouachita County Medical Center, Highland Industrial Park are all items that can attract more companies to the area. OPED establishes benchmarks for companies that they are conducting projects with for them to receive incentives to help grow business. Silliman explained OPED's work in the industrial area and being able to work with Calhoun County for companies to expand their territory. He spoke about payment in lieu of taxes and property tax abatement to help structure economic growth.
"OPED offers both job creation incentives and job training incentives," Silliman shared.
Silliman read an excerpt from national published magazine Expansion Solutions in which OPED and the Camden area are recognized for its work in regards to the economy. The article points to several strides such as Aerojet Rocketdyne's relocation of one of its programs from Sacramento and the "incredible workforce" as being some of the reasons Camden "continues to be chosen."
Silliman took time to speak about funding. He explained that he was not in attendance to advocate for a sales tax but explained OPED was once funded by one in the past. Silliman said the county and the quorum court has helped with funding because of flexibility in their budget. He also went into more details about the importance of OPED and explained how business depend on their information remaining confidential until decisions have been made. Silliman delineated how it would be an issue for an elected official to act as a point of contact. He used for example a county judge having to divulge confidential information after receiving a Freedom of Information Act request.
"In the state of Arkansas area of every community of every size has a specific organization that is the point of contact for economic development and business development. We deal with confidential information with business prospects. We see financial information and companies don't want that information out until they've made a decision on where they are going to locate. You have to have a credible organization. We're non political and we run a professional organization…That's the way the process has to work because we deal with confidential information."
Sponsor Content
Comments