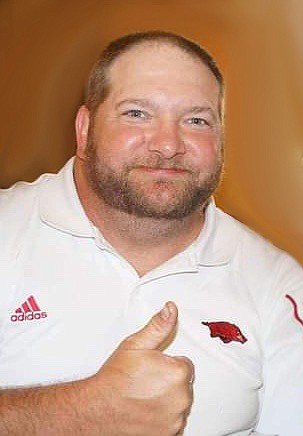 CAMDEN — Calvin Dudley "Duddy" McClurkin, 45, of Sherwood left this world and went to his Heavenly Home on October 10, 2020. He was born in DeQueen, Arkansas to the late Calvin Dean and Phyllis Eileen McClurkin on May 23, 1975. Anyone who knew him knows that he bled Razorback Red. It was only fitting that he met his everything, Amanda, at a Razorback game in 2014. They instantly fell in love and married four months later on March 6, 2015. He was diagnosed with kidney failure in 2017 and fought a long, hard battle. Even through his struggles, he always looked on the positive side and never doubted God's plan. Dudley has never met a stranger and was always the life of the party. To know Dudley was to love him. Although he never had any children biologically, he loved kids and made it a point to have special relationships with his nieces, nephews and most importantly, Amanda's son, Grayson. He loved Grayson with his everything, and their bond was incredible. Dudley was passionate about many things in life, but he especially enjoyed deer hunting, golfing, fishing and all things Razorbacks. He loved working with Awana and VBS at church before his health declined. He will be dearly missed and loved by everyone lucky enough to have known him.
Dudley is preceded in death by his parents; grandparents; special uncle, Waylon McClurkin and his beloved dog, Bookie.
Those left to cherish his memory include his soulmate and wife, Amanda McClurkin; son, Grayson Carver; siblings, Tracey (Eddy) Betts, W. Hoyt (Lorie) Atkins, Kathi (Gary) Calton McClurkin, Jann McClurkin Long, Cherri McClurkin and Kenneth (Carla) McClurkin; uncle, Michael (Diana) Marsh; aunt, JoAnn (Ronald) McCown; as well as a host of nieces, nephews, cousins and friends.
Funeral service will be 11:00 a.m., Saturday, October 17, 2020 at Central Baptist Church. Visitation will be from 9:00 a.m. to 11:00 a.m. prior to his service at the church. Dudley will be interred at Chapel Hill Memorial Park after the service.
Because of Dudley's love for the Razorbacks, the family requests everyone in attendance to wear red or their favorite Razorback apparel in his memory. All that knew Dudley are welcomed and even with COVID-19 restrictions, the church has more than enough space for everyone to come and celebrate Dudley's life with his family.
Sponsor Content
Comments