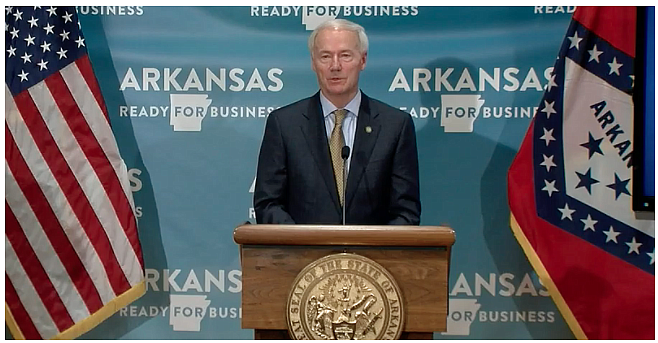 CAMDEN — By Matt Hutcheson
El Dorado News-Times Staff Writer
Voters face a full ballot in the 2020 general election, including a contentious Presidential race and a host of statewide and local races and issues.
Arkansas voters in this election will also decide whether to keep a .5% sales tax. The tax was originally authorized by voters in 2012 and is set to expire in 2023 and goes towards roads, including highways, county roads and city streets. The tax will become permanent if it passes.
The exact wording of Arkansas Issue 1 reads: "An Amendment to the Arkansas Constitution to continue a levy of a one-half percent sales and use tax for state highways and bridges; county roads, bridges, and other surface transportation; and city streets, bridges, and other surface transportation after the retirement of the bonds authorized in Arkansas Constitution, Amendment 91, as special revenue to be distributed under the Arkansas Highway Revenue Distribution Law."
According to a guide video produced by the Arkansas Division of Agriculture, the annual revenue estimates for the tax include $205.6 million for the State Highway and Transportation Fund, $44 million for cities and $44 million for counties.
On Monday, just a few blocks from E. Elm Street where an early voting line remained queued throughout the day, Governor Asa Hutchinson stopped by the MAD Amphitheatre in El Dorado to voice his support for the measure. The governor was joined by Attorney General Leslie Rutledge, state Speaker of the House Matthew Shepherd and several local officials including El Dorado Mayor Veronica Smith-Creer and Union County Judge Mike Loftin.
Shepherd spoke first, presenting his case for the continuation of the sales tax, before introducing the governor.
"[This sales tax] is of critical importance to not just our state, but our local cities and counties… It's something that you're already paying and if it fails, we will potentially lose money that goes to the state and our cities and counties… I travel around and talk to my constituency, so I know highway funding and infrastructure is a top priority," Shepherd said.
Hutchinson said that his tour of the state Monday was based around getting information out about Issue 1.
"This past weekend I was visiting with my son, he's a voter. I told him, 'John, I need you to help me out and vote for Issue 1.' He asked me to tell him what it is, and he is an active voter and very engaged, but was not fully aware of what Issue 1 was. That's what it will take with our voters… nothing beats a neighbor talking to another neighbor… This issue will really impact the future of Arkansas and of south Arkansas," Hutchinson said.
The governor continued by saying he sees the tax as crucial to maintaining roads throughout the state.
"It will provide better roads for the parent who puts their child on the school bus and worries about them getting to school safely; the farmer who wants to get his product to market; and the businessperson who is concerned about the potholes and the cost of repair for his vehicle… Every study that his been done shows that we do not have enough money in Arkansas currently to maintain our existing roads. This is about fulfilling the need that we have… for roads," Hutchinson said.
Attorney General Leslie Rutledge spoke next.
"We have so many important items on the ballot this year, but there couldn't be anything more important for the future of the state than Issue 1," Rutledge said.
Rutledge said her personal experiences with the state's roads influenced her decision to support the measure.
"Every year I go to all 75 counties, so I know the roads in Arkansas. I started doing that based on a lesson I learned in college when I flagged traffic for the highway department. I saw then that sometimes there can be a disconnect between people in office and the men and women out on the road. I like to make sure there isn't that disconnect, and I have yet to hear from one local leader who says, 'Leslie, we have plenty of money for roads,'" Rutledge said.
Rutledge addressed opposition to the amendment by pointing out that the tax already existed.
"There will be detractors and opposition who say we don't need any new taxes. Well, it isn't a new tax, it's an extension of a tax, one that is much needed for infrastructure. It isn't a partisan issue," Rutledge said.
Union County Judge Mike Loftin spoke next, emphasizing the local impact of the tax. The Union County Quorum Court passed a resolution in September supporting Issue 1.
"Union County received from this half cent sales tax last year $755K for our road department and the city of El Dorado got about $440K. The other incorporated cities got their share… It's very important to our budget. My road budget is $6 million per year and $2 million of that is for asphalt," Loftin said.
Next, El Dorado Mayor Veronica Smith-Creer lent her support to the issue and, with her granddaughter in her arms, said that safety is an important aspect of infrastructure funding.
"[My granddaughter] went to sleep on the ride here which lets you know we didn't hit very many potholes, though we had to dodge a few. We need to understand that and know that this tax isn't new, it's something we've been doing. When I was running for mayor, the streets and their condition are something I heard over and over again. If we want to make sure we're taking care of our streets and the people who drive on them, taking care of our grandchildren and making sure they can sleep while they ride, let's make sure we vote for Issue 1," Smith-Creer said.
Representatives from the business community spoke as well, including Lion Oil's Steve Cousins and Terry Norman, of Norman Transportation.
"I am in the trucking business… and would like to add that safety is the utmost concern in the trucking industry. The key to that is good roads… Every bit of funding we can get for our highways is important and I know our truckers will appreciate it," Norman said.
Hutchinson and Rutledge traveled throughout the state to express support for Issue 1 on Monday, visiting Harrison, Jonesboro and North Little Rock in addition to El Dorado.
The University of Arkansas Extension Service ascribes organized opposition to the bill to the No Permanent Tax No On Issue One Committee.
The group lists several reasons for their opposition on their website, including the tax being made permanent, the lack of fund control by taxpayers or elected officials the need for prioritizing education and health care over infrastructure.
"Voting no on Issue 1 will help reduce the burden on hardworking families and allow Arkansans to keep more of their hard-earned money," the group says on its website.
Sponsor Content
Comments