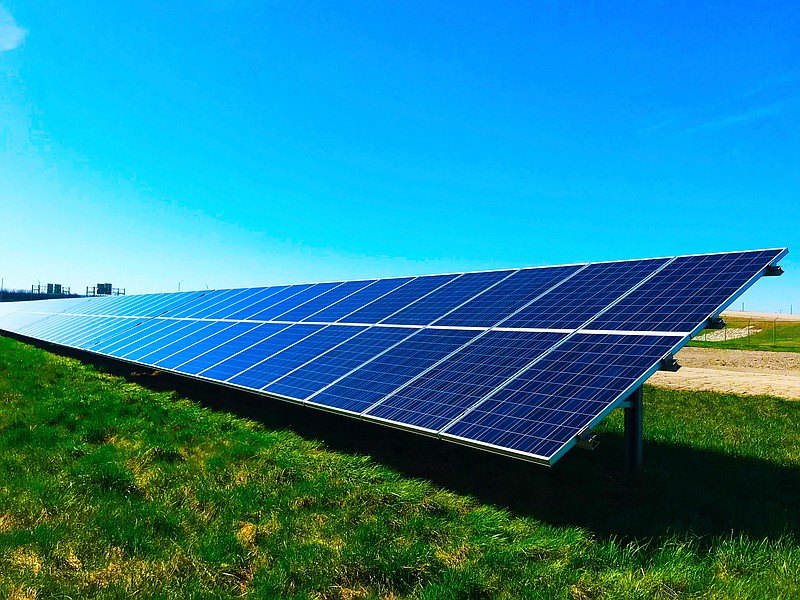 CAMDEN — Special to the Camden News
LITTLE ROCK & HAMPTON, ARK, October 15, 2020 –Hampton School District (HSD) groundbreaking in partnership with North Little Rock's Today's Power, Inc. (TPI) to announce the school district's new Solar project. The solar project will encompass 5 acres of land and will be owned and operated by TPI. All energy generated by the array will be sold under a 20-year Solar Power Services Agreement (SPSA) to HSD.
"The Hampton City School District is proud to be part of a venture like this, according to HSD Superintendent Doug Worley. Seeing our community embrace solar power, our school board sought an innovative way to take be fiscally responsible and respecting our environment. As a cornerstone of the Hampton community, we saw this opportunity as a method to impact the lives of our students and the entire community. "
In an area with ample renewable energy use, these projects are just another example of how solar power saves and are a stable long-term investment
Sited near the Hampton Highschool, the HSD array will be a 770-kW single-axis tracking array, and it is expected to produce over 90% of the districts energy needs by generating approximately 1,240,000 kWh each year. Ouachita Electric Cooperative will provide the remaining energy needs of the District.
In April 2020, the HSD school board began pursuing solar-powered opportunities by creating and distributing a request for proposal (RFP) from qualified solar vendors with the goal of reducing operating expenses. The contract was awarded to TPI after the complete RFP process was completed.
"This is yet another project in a region where solar power is widely installed that exemplifies Solar's ability for economic and environmental savings. TPI is excited to partner with HSD to help reduce costs so more of the school's funds can go to educational purposes" said Michael Henderson, President of TPI.
Construction of the 2,052-panel solar system will begin in December 2020 and will be ready to produce clean, affordable energy late in the first quarter of 2021.
Today's Power was created in November 2014 by Arkansas Electric Cooperatives, Inc. (AECI) to serve Arkansas' electric cooperatives but our fellow cooperatives in neighboring states and municipals quickly learned of our program and wanted a "known business partner" to provide their solar system.
Today's Power is now one of the most qualified renewable energy companies in the nation with more utility scale solar and storage projects than any Arkansas based company.
As an integral part of helping the electric cooperative and public power sector serve their members who are interested in solar and emerging technologies, Today's Power also designs advanced renewable energy systems for residential and commercial and industrial customers of all sizes.
Hampton School District is a public-school district based in Hampton, AR. The school district encompasses 479.67 square miles of land. Hampton School District is the only public-school district in Calhoun County. The city of Hampton is conveniently located 30 miles north of El Dorado, AR and 25 miles east of Camden, AR.
Hampton School District serves over 600 students from the communities of Hampton, Harrell, Tinsman, and Locust Bayou. The district consists of one comprehensive high school, one elementary school, and one pre-k school. Hampton employs 100 faculty and staff members
Sponsor Content
Comments