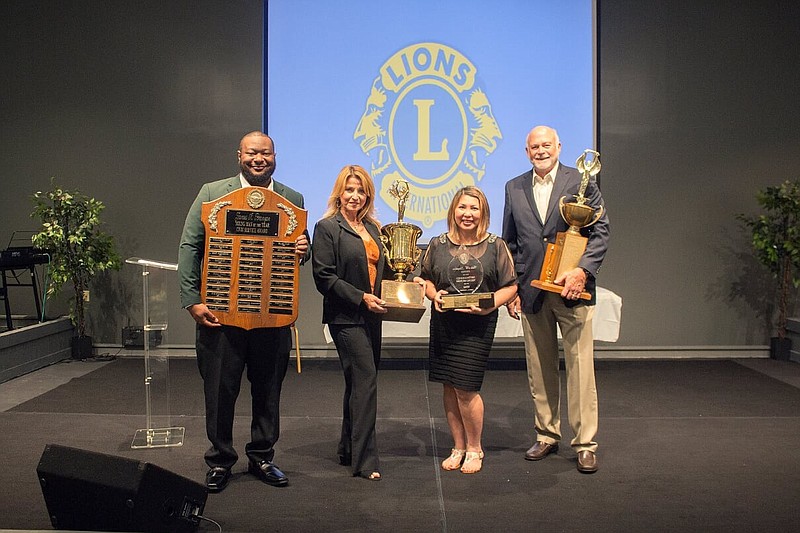 From left: Patric Flannigan, James A Branyan Outstanding Young Man of the Year; Sherri Steelman, John Stinson Outstanding Woman of the Year; Hahn Nguyen, Vida H. Lampkin Young Woman of the Year; and Paul Lindsey, W.E. Hussman Camden Man of the Year. - Photo by Tina Sams
CAMDEN — By Bradly Gill
News Editor
The Camden Lions Club held its 2020 Distinguished Service Awards Banquet and recognized four members of the community for their hard work and tireless dedication.
The event was held Tuesday night at Thrive Church (formerly the Ross Center) and social distancing practices were in place, with servers from Southern Arkansas University Tech masked and wearing gloves as they served a meal catered by Catherine's Bistro. Steven Word was the Master of Ceremonies.
Customarily, last years' award recipients announce the current crop of winners, but circumstances led to a change in plans this year.
Anna Warriner, last years Vida H. Lampkin Young Woman of the Year introduced Hahn Nguyen, this year's recipient of the award, via a recorded video. Nguyen is the owner of Envy Nails and Bamboo Cafe.
Warriner said, "She was employed as a petroleum engineer. She moved her family from Vietnam to the United States to make a better life for her son and her family."
Nguyen opened Envy Nails in 2003 and originally planned on moving to Dallas, but the special bond she felt with her customers kept her in Camden.
Bamboo Cafe opened in 2019 and the restaurant has provided several free meals to students, police officer and firemen.
Nguyen also employs friends and family back home in Vietnam to produce masks featuring the Cardinal mascot of Camden Schools. She has given away many of these masks and also sells them in her restaurant.
She also planned memorial funds for two students who tragically lost their lives in Camden this year.
Nguyen accepted the award with tears in her eyes saying, "Camden is my home. Thank you."
Travis Daniel, the 2019 James A. Branyan Outstanding Young Man of the Year, introduced the Camden News' own Patric Flannigan, listing Flannigan's service work with the Juneteenth Committee, the African American Historical Society and his overall willingness to help in any situation.
Flannigan said, "I'm thankful to receive this award tonight, thankful to the Lions Club, thankful to see so many wonderful faces out here tonight."
Flannigan thanked his late mother and aunt and said that they were watching down with the "best seat in the house"
Laura Raines, the 2019 Outstanding Woman of the year, introduced the 2020 award winner as a real "go getter" and noted her activity on the First Friday Market committee, her founding of the Queen City Mask Facebook group, which sews COVID masks and have delivered many across the country, as well as her work in education.
Sherri Steelman took the stage and said, "I am who I am because of the people in this room and the people who have been in this room the years before we were here. I grew up in Harmony Grove. I was raised in Harmony Grove by an amazing woman."
Steelman then recognized her mother who received a standing ovation from the crowd.
Dr. Dan Martin, filling in for the 2019 Walter E. Hussman Man of the year Jim Golden, introduced Paul Lindsey with an anecdote from junior high school.
Dr. Martin said, "I recall one day in junior high, one particular teacher, Miss Bonnie Pierce, singled him out for considerable criticism for what she perceived as a lackadaisical attitude towards his academics. She even sang a song about it. Most of us in the class were quite amused by this. Perhaps Miss Pierce later on thought better of her harsh criticism of this young lad and the very next day she brought the class back together and singled out each and every student to say something positive about the man."
Martin said that ever since that day Lindsey showed more enthusiasm for academia and went to law school. Martin noted that Lindsey teaches Sunday school and coaches soccer, softball and baseball. Lindsey also serves in Kiwanis, The Camden Concert Foundation, The United Way and is a member of the SAU Tech foundation. To top it all, he was also board member of the Arkansas School for Math and Sciences.
Lindsey joked, "Wow, I'm shocked and surprised. Dan's my doctor and he knows things about me he shouldn't know."
Lindsey noted, "You're involved in a community and you give back and don't look back. You just charge forward. That's what I've always tried to do."
Rounding out the night was former Razorback basketball player and keynote speaker Scotty Thurman, who compared the teamwork and leadership of the Lions Club to the National Championship team he played on in 1994.
Thurman said it was great to see a community of Camden's size come out to support each other.
Sponsor Content
Comments