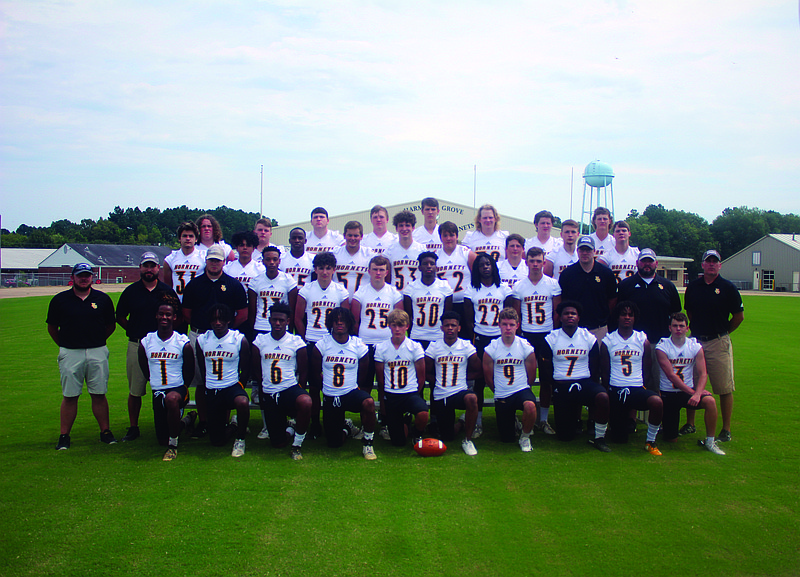 - Photo by Patric Flannigan
CAMDEN — By WADE TOTTY
Staff writer
JUNCTION CITY--- Old ball coaches will tell you that defense wins championships. If that is true the Harmony Grove Hornets showed they are in the hunt for a championship after keeping the Junction City Dragons out of the end zone after the first quarter Friday night at David Carpenter Stadium in Junction City. The Hornets won the game 20-14 in the kick-off to the 2020 campaign.
Coach Brad Smith's team scored first. Running Back A. J. Ivory scored on a 3 yard run with 8:39 to go in the first quarter. The 2 point conversion attempt failed, leaving the score 6-0.
Coach Ernie Horstcamp's Hornets put together a touchdown drive that was capped by 3 yard run by Running Back Mecca Arnold with 4:03 to go in the opening quarter. Harmony Grove's 2 point try also failed leaving the game knotted at 6-6.
Junction City responded with another scoring drive. Running Back Jay Johnson scored on a 7 yard run with 1:19 to go in the first quarter. The Dragons converted the 2 point try on a pass into the end zone giving the home team a 14-6 lead.
Harmony Grove answered with another scoring drive that was ket alive by a successful fake punt. Arnold scored his second touchdown on a 1 yard run and then added the run to score the extra 2. With 6:13 to go in the half the game was tied at 14-14.
The only scoring drive of the second half was executed by the Hornets. Arnold scored his third touchdown of the night on a 4 yard run with 5:21 to go in the third quarter. The 2 point try failed resulting in the final score of 20-14.
The Hornets are now 1-0 on the season. They will not play this week, but will face the defending AA champion Fordyce Redbugs at Bill Manning Field on September 11. Fordyce narrowly defeated the Rison Wildcats 29-28 at Rison on Friday night.
Sponsor Content
Comments