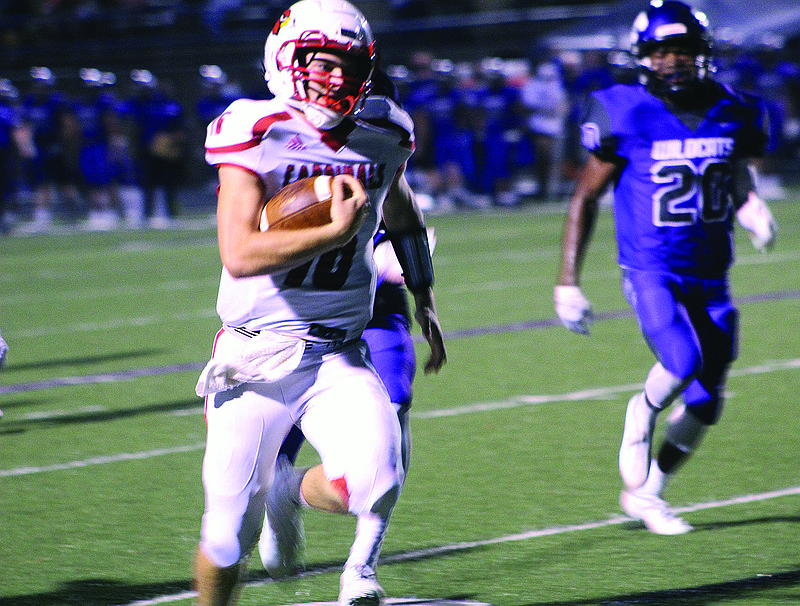 Camden Fairview quarterback Logan Robertson gets loose for a 52 yard touchdown run. The Cardinals won 45-20
CAMDEN — By Patric Flannigan
Sports editor
Ouachita County varsity football teams went undefeated last Friday night.
The Camden Fairview Cardinals defeated the El Dorado Wildcats, 45-20 while the Bearden Bears beat the Mineral Springs Hornets 24-20. Both squads were on the road.
The Cardinals dominated the Wildcats on the ground with 410 unofficial rushing yards and shut out the Wildcats's offense. El Dorado's 20 points came from two touchdowns on kickoff returns and a touchdown on a punt return.
"The thing is man, it's an indication of what this team is and what it can be," CF Head Football Coach Jake Monden said. "Tonight, you take away three snaps and we played flawless in all three facets. We'll get that stuff fixed but this just couldn't feel more incredible. This is up there with state championship wins I've had in the past, the semifinals wins I've had you know. We really wanted this one and it's bittersweet to get to do it down here."
The passing game was a concern for the CF defense after the Arkadelphia game, mostly because they were unable to capitalize from several turnover opportunities. CF corrected that after a week of practice and the only time El Dorado would look sharp in its passing attack was on its first drive. El Dorado received the ball and found its self in CF territory after a 14 yard pass and a 28 yard pass. The CF defense would buckle in and get more pressure on the quarterback.
The first score of the game wouldn't come until El Dorado's second offensive possession. El Dorado's Sharmon Rester dropped back for a pass and drop the ball as CF's Trey Frazier applied pressure from the side. Rester tried to pick the ball up but it rolled into the hands of Jacovey Barker who scooped and scored from 10 yards out. Nasir Khan's PAT was good and CF would take the 7-0 lead with 8:28 left in the first.
CF would score again when Logan Robertson made a great read and exploited a hole over the right side of a dominant offensive line and run for a 52 yard touchdown. Khan added the PAT to put CF up 14-0 with 2:35 left in the first quarter.
El Dorado would respond quickly when El Dorado's Deaundre Burn received the ensuing kickoff near the left hash mark of the 20 yard line and find room on the right for a long touchdown return. The PAT was no good.
CF would find itself in a similar position as it was in last week with a chance to score late in the first half. Last week, when the Cardinals were in the red zone just before the half, a bad snap led to a turnover. This time, CF would find success. The Cardinals had gotten the ball down to the El Dorado 11 yard line before a false start and a couple of negative plays put the Cardinals at a fourth and long from the El Dorado 21. Gunner Branch took the snap and braved a collapsing pocket to deliver a strike to an open Brandon Copeland for a touchdown. The PAT was blocked but CF held a 20-6 lead with 3:50 left in the first half.
El Dorado would threaten after a couple of big pass plays to get in Cardinal territory but J'koryai Rogers would break up a fourth down pass in the end zone and the Cardinals would go into overtime with the lead.
CF received the ball to start the third quarter and Branch would get loose on a quarterback sweep to run for a 75 yard touchdown. The PAT was good and CF led 27-6 with 10:37 left in the quarter.
Branch would add another rushing touchdown early in the fourth and Robertson would as well while Martavious Thomas lined up at quarterback for a few drives in the second half. El Dorado returned a kickoff for a touchdown with 7:38 left in the game and scored on a punt return with 5:03 left in the game. The first teamers were put back out and CF would add another touchdown - this time by Erik Hall to help put the game out of reach.
The Cardinal defense didn't allow El Dorado to complete a single pass in the second half and Amauryae Juniel captured the team's first interception of the season when he made a play on the ball and returned around the 50 yard line and returned it deep in El Dorado's territory.
"I tell you what El Dorado's got two amazing receivers back there and its just a familiarity from what we saw last week," Monden said about the Cardinals defense. "We've seen it two weeks in a row and our defensive staff, it's like if you get us on something you're not going to get us again. They just went to work this week. Really the whole team and just the toughness they showed all week. You should've seen Monday's practice. Coach Hill and our staff did an awesome job… Go Cards! Cardinal Nation, we'll see you guys next week."
The Cardinals will travel to play the Hamburg Lions for a 7 p.m. kickoff.
Bearden picks up road win
The Bearden Bears notched its first win of the season by coming up big late to beat Mineral Springs. The Hornets are predicted to be a playoff team by Hooten's.
The Bears came out and scored the only points in the first quarter with a touchdown. Then in the second, the Hornets would tie the game when a Bearden defender fell in coverage and a scrambling Hornet quarterback found him open for a long touchdown.
Bearden would recaptured the momentum when Royce Cones returned the ensuing kickoff for a 90 yard touchdown.
"I thought that was really big for us," Bearden Head Football Coach Greg Anthony said. "That was a key point in the game."
The Bearden Bears would convert a critical fourth and short late in the first half to go into intermission with the 12-6 lead.
"In the second quarter we had 30 seconds left and it was fourth down and about a yard, yard and a half but we were on their 20," Anthony explained. "I call a timeout and tell them guys we're fixing to punt this thing. The boys kinda got mad and they said, 'Coach, we can get this.' I say guys if we don't get this they got a chance to score. They told me, 'Coach, don't worry about it. We'll get it. We're going to get it.' I say, 'Alright, I'm gonna put my trust in you.'"
Bearden would find the end zone early in the second half when Kendrick Juniel caught a pass and made a move to run for a 75 yard touchdown.
Juniel would score again after the Bears put together a long offensive drive to make it 24-6.
"I think we kinda let the gas up a little bit after that," Anthony said. "Mineral Springs wasn't very successful running the ball against us but they got to throwing a bunch of quick hits and passes and ended up scoring two more times. They had the ball with about 3 minutes left and drove it down to our 2. We stopped them and backed them up to the eight. We got the ball back but they had three timeouts and we ended up having to punt. They sent nine guys to block it. The punt wasn't but about 15 yards but it went sky high because we had to rush it. Their short return guy came up and tried to field it. It bounced off his shoulder pads and we recovered it and killed the clock. It was a hard fought game. I though both teams played really well."
Going ahead, Anthony said the Bears will need to work on their two-point plays this week. The Bears will be back at home to host the Gurdon Go Devils at 7 p.m. on Friday.
Sponsor Content
Comments