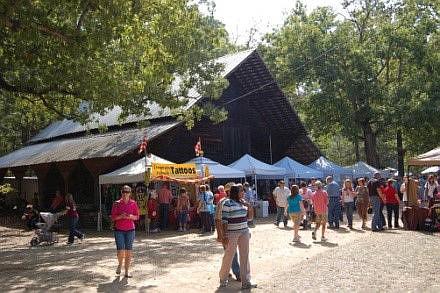 CAMDEN — Special to the Camden News
It is with heavy heart that the Camden Area Chamber of Commerce is announcing the cancellation of this year's Camden Barn Sale. This year's event was planned to take place on September 26th. This is the first time since 1968 the Camden Barn Sale will not be held according to Beth Osteen, Chamber Director.
Due to the unforeseen future due to the Covid-19 pandemic, we feel this decision must be made in order to protect our volunteers, vendors and attendees.
Like most events of this nature, there is much preparation months in advance. We waited until the last possible moment to come to the best decision possible, and it was with much council from the Camden Barn Sale Board and community partners that decision was made. We want to say thank you for the continued years of support from our sponsors, advertisers and of course volunteers who have made the Barn Sale the longest running annual event in Camden.
The Chamber Board didn't make this decision lightly, but believe it is important to the future of our Organization, our army of volunteers, our vendors, and our visitors that we stay healthy and come back stronger next year. We are looking forward to seeing everyone back, September 25, 2021.
For more information contact:
The Camden Barn Sale, 870-836-6426
Sponsor Content
Comments