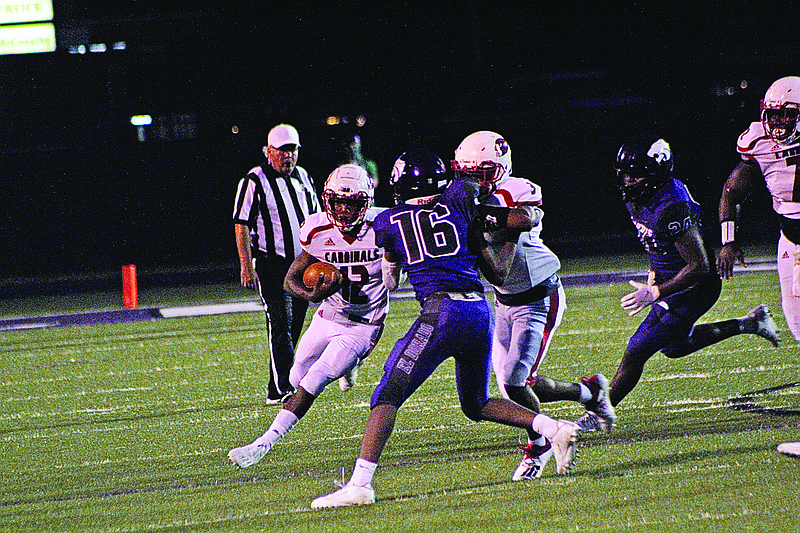 Excuse us Camden Fairview's Reshard Clardy (12) cuts up field as his teammate Brandon Copeland (3) clears out an El Dorado defender. The Cardinals will be on the road again this week against the Lions of Hamburg. - Photo by Patric Flannigan
CAMDEN — By PATRIC FLANNIGAN
Sports editor
Coming off a huge, emotional road win against El Dorado, Camden Fairview Head Coach Jake Monden and his team knew they wouldn't have long to celebrate before hitting the road again to play another formidable opponent.
The CF Cardinals will travel to Ashley County to play the class 4A Hamburg Lions.
"We got film earlier in the week and we peaked at it a little bit," Monden said shortly after the Cardinals defeated El Dorado, 45-20. "You know, they are similar to what they've been in the past. They are going to be a talented team. They're going to have some speed. Anytime we go down there to Ashley County we know it's going to be a brawl."
While the Cardinals lead the series 7 games to 1 since the teams started playing each other in 2012, four of the last five meetings have been decided by a touchdown or less. The last time CF played Hamburg on the road was in 2018 and it took overtime to win 25-19 in what was an emotional game for the Cardinals who dedicated the game to their fallen teammate Tyler Kelley. In 2019, the Cardinals were able to win 51-35 in a game full of early big plays for both teams.
The Lions are coached by Cecil Ray Cosey (47-27) and will enter Friday night's contest after a bye week. In Week 0, the Lions lost to a speedy Ashdown team, 28-20. Hamburg was estimated to be in a rebuilding year last year but ended up finishing 7-5 and third in its conference. This year the team returns eight starters on offense and seven on defense. Offensively, the Lions operate out of a Power Spread with a tough quarterback in senior Brett Rice. The Lions are usually a run first team that uses a lot of different running backs and that won't be much different this year. Hamburg returns Armodd Taylor and Gavin Harrod who both saw time against the Cardinals in last year's game.
The Lions match up well with the Cardinals being one of the heaviest teams in the 4A and have shown an ability to be very dangerous with its misdirection plays.
One area of concern for the Cardinals will be its special teams. El Dorado's offense didn't score a single point against Camden Fairview but two kickoff returns and a punt return led to 20 Wildcat points. Last year against the Lions, the Cardinals gave up a 70-yard kickoff return in the second half. CF didn't have to attempt a two-point conversion last week but three of its PAT's were blocked.
The Cardinals will also be playing a three-man front for the third game in a row. So far, the Cardinals have been able to attack it well on the ground already closing in on a thousand rushing yards on the season.
Kickoff is set for 7 p.m. on Friday night.
Sponsor Content
Comments