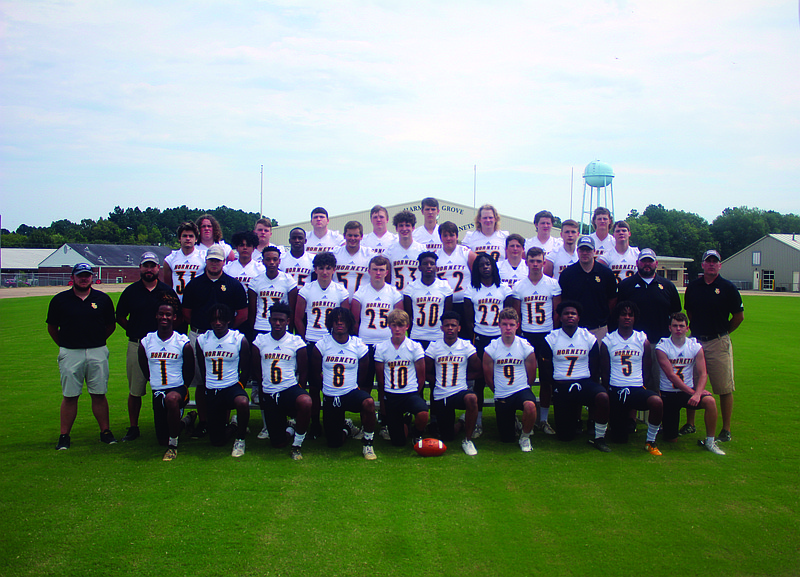 CAMDEN — By PATRIC FLANNIGAN
Sports editor
The Harmony Grove Hornets didn't have a varsity football game last week and probably deserved a Friday night off after beating 2A runner up state champions Junction City on the road. It was the first HG win in Junction City in more than a decade and didn't come easy by any means as the Hornets defense shut out a potent Dragons' offense for three quarters to salvage the 20-14 win.
This week the Hornets will face the 2A State Champion Fordyce Redbugs who also had a week off after beating Rison 29-28 in Week 0.
HG finds itself in the same position it was in around this time a year ago, but this time the Hornets are hoping to correct what went wrong against the Redbugs in 2019.
The Hornets spotted the visiting Redbugs 26 points thanks to a couple of onside kicks and a fake punt early in the game and the deficit would prove to much as HG loss 46-22. Thanks to the conferences realigning, the Hornets will get to host the Redbugs for a second consecutive year.
The Hornets and Redbugs have 8 times over the last 10 seasons with each team have four victories. The Hornets upended the Redbugs in HG Coach Ernie Horstkamp's first year at the helm in 2018, 30-28. Before that, the other H.G. victories over Fordyce came earlier in the decade.
The Redbugs are coached by Tim Rogers (83-41) and operate out of the Wing T on offense. Gary Lewis (6'0, 220) and JaQuez Cross are two of the Redbugs most explosive weapons that found success against the Hornets last year. Jaheim Brown is a four year starting quarterback for Fordyce and has improved every year.
The Hornets were only one of four teams to score over 20 points against Fordyce's 3-4 defense last year.
The game will kickoff at 7 p.m. at Bill Manning Stadium.
Sponsor Content
Comments