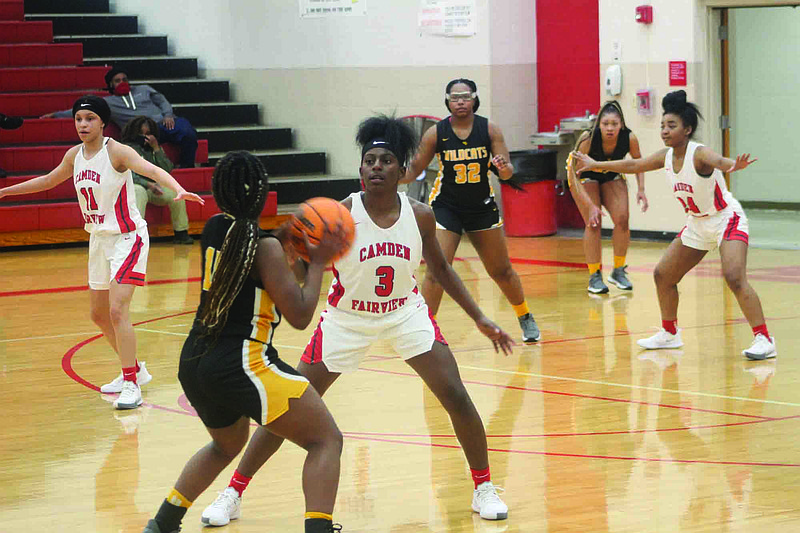 CAMDEN — The Camden Fairview Cardinals and Lady Cardinals battled hard in defeat against a couple of Watson Chapel squads at the Birdhouse on Tuesday night. The Lady Cardinals loss 39-35 while the Cardinals loss 41-30.
Physicality was the theme of the night as bodies were often seen getting up off the court without a whistle preceding the fall. In the first quarter of the girls game, Amiyah Davis tied it at 6 before the Lady Wildcats hit a long three at the buzzer to take a three-point lead into the second.
Things started to look bad for the Lady Cardinals as Chapel hit quick back to back threes and go up by as many as 11 points.
CF Lady Cardinals Coach Johnny Jackson called a timeout and his squad came back out to the court and matched WC's aggression.
Tamia Dandridge would go on a personal 10-0 which included two three-pointers and a steal.
Nicole Sanders would come up with a big assists to Jhiya Jefferson on the inside to cut the deficit to two. Chapel went 1/2 from the free throw line on its next offensive possession to go ahead 23-20 but Jefferson would inbound a pass to Dandridge who scored from the baseline at the buzzer to trail by one at the half.

The Lady Cardinals would finally get the lead thanks to physical play from Karmen Johnson on the inside. After drawing a foul, she would sink both free throws. Dandridge would add a three pointer to put CF ahead, 27-23. Defense was stressed for both teams as WC would only score six points but take a 29-27 lead into the fourth.
The officials swallowed the whistle the rest of the way as both teams flew around the court. In the end, WC would do enough to hand the Lady Cardinals a loss. Dandridge finished with a season high of 19 points.
The boys game was a battle of wills. Despite the amount of speed on the floor, the score stayed low with CF down 7-2 at the end of the first and 15-14 at the half.
Daylan Jackson led the team in scoring with 16 points against WC's 6'7 post player. The Cardinals won the turnover battle were unable to hit a three-pointer despite finding success beyond the arch in its last few games.
Camden Fairview will be back at home on Friday to host Crossett.
Sponsor Content
Comments