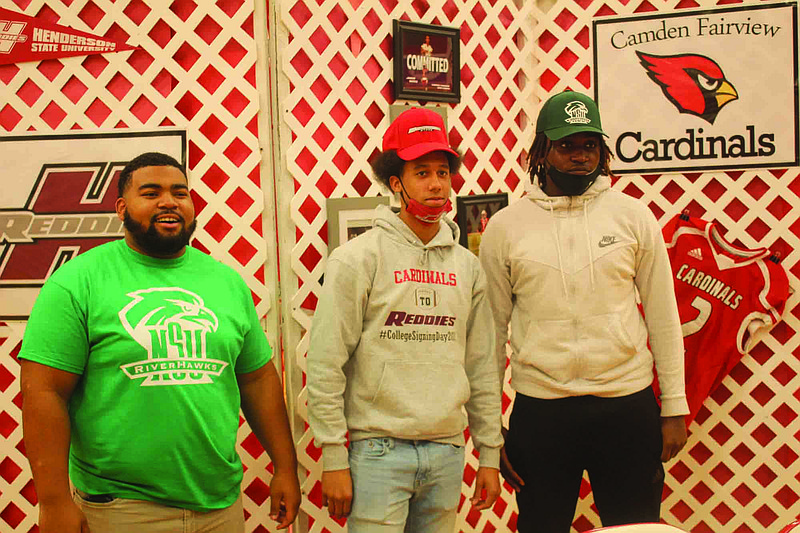 Three, the Card way The Camden Fairview Cardinals football team had three sign national letters of intent to attend college and play football. Pictured above from left are Kyron Kidd, Jaden Bates and Matthew Pouncil. More photos can be found on the Camden News Facebook page.
CAMDEN — The Camden Fairview High School football team had three student athletes sign their national letters of intent to attend and play football on the next level.
CF seniors Kyron Kidd, Matthew Pouncil and Jaden Bates were celebrated during the signing ceremony on Wednesday.
Signing day began with a welcome from CF Athletic Director Ricky Tucker. He spoke about how proud of each student athlete he was and gave credit to CF Head Football Coach Jake Monden and his staff.
Pouncil was the first to sign and was joined by his parents, Veronica and Mario Jones. He was voted as the 2020 Defensive Lineman of the Year and was named to the All State team.
Next to sign was Kidd who was joined by his parents Bettina and Odean Confron and his grandparents and siblings. Kidd was voted the 2019 5A South Defensive Lineman of the year and played on both sides of the ball all 2020. Kidd was a run stopper and is an All State performer.
Bates signed his NLI to close out the ceremony. Bates was joined by his parents Chris and Dana Bates, grandparents, aunts, uncles, cousins and siblings. Bates set two single game records during the play-in game of the playoffs against Blythville when he caught three interceptions and returned two of them for touchdowns. Bates is a three sports athlete and an All Conference performer.
CF Administrators, teammates and even Pee wee football coaches were on hand for the event.
Attendance was limited and everyone wore mask except when asked to remove the briefly for photos.
Sponsor Content
Comments