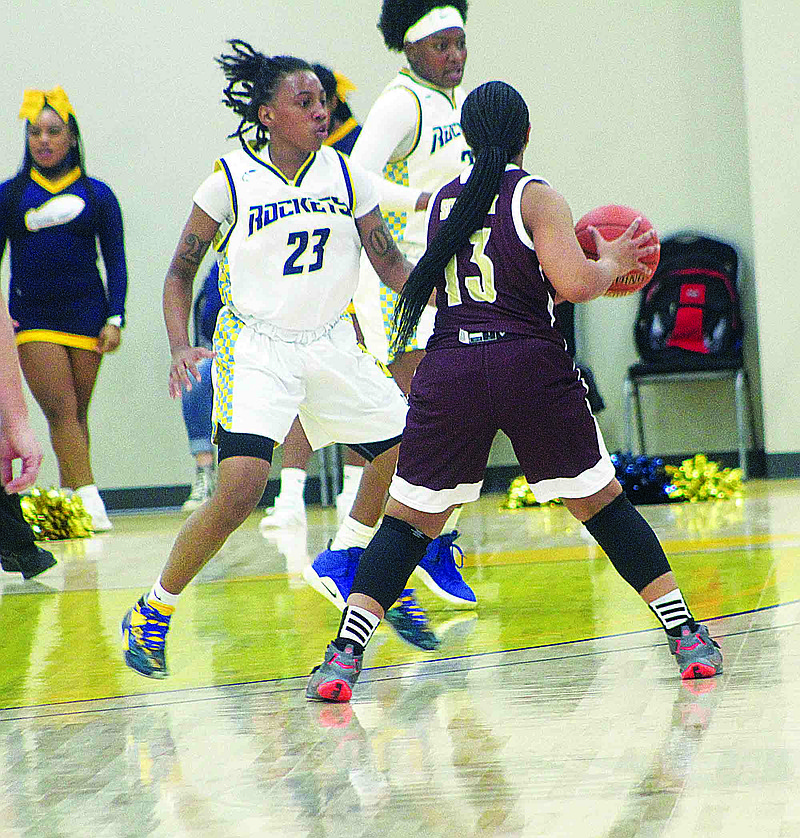 Peyton Peoples (23) guards a SouthArk player during the second half of its home game Saturday. People's performance set several SAU Tech records in both men and women's basketball including Most three pointers in a single game (10) and Most three pointers in a single quarter (5). - Photo by Patric Flannigan
CAMDEN — By PATRIC FLANNIGAN
Sports editor
The weather held off on the outside during SAU Tech's basketball games against SouthArk CC last Saturday, but it was raining from down town on the inside.
Mansfield, La native and freshman guard Peyton People set a record for hitting 10 three-pointers during the Lady Rocket's 80-60 win over the South Ark Stars. The Rockets were also able to win in its game against the Stars in runaway fashion, 78-51. With the wins, both teams move to 1-0 in conference play.
The Lady Rockets started slow and only held a four-point lead after the first quarter, but the home team was able to come up with stops on the defensive end and execute in the fast break to expand its lead to 11 (34-23) by the half.
In the third quarter, the Lady Rockets would get a lift on the inside by the play of Christinia Gibbs and Robyn Gordon who combined for 10 third quarter points.
With the game still hanging in the balance in the fourth quarter, the Lady Rockets got into a three-point contest with the Stars, but it was the Lady Rockets who would prevail and ultimately distance themselves by hitting six long range bombs - five by Peoples - to put the game out of reach.
Peoples finished with 30 points and might have finished with a couple more threes if she didn't go down with an injury about midway through the quarter. However, Peoples was able to walk off the injury but remain on the sidelines for the rest of the game.
SAU Tech Lady Rockets Head Coach Aramie Brooks said that his team has been dealing with injury over the week but are still putting forth a good effort.
"Yeah, Jordan Shelton, even though she played tonight she still had a leg injury," Brooks shared. Alex's (Johnson)leg is still kinda hurting and one of our bigs is still a little hurting too. We're fighting through injury right now but we are definitely getting through it."
When asked about Peoples' performance, Brooks said it was expected and that if she continues to work on her game she will be able to do great things for the team. He also added that she isn't the only one that can score at will when they are in the zone on the team and that he cant wait for everyone to start clicking at the same time.
"She can definitely fill it up," Brooks said. "She was the glue to the team today. If she's having a night like that it's pretty hard for us to lose a game. She's still trying to get a feel for how to set her feet and get a shot off but she's definitely gonna be one to keep an eye on. Gibbs caught the ball good tonight. Had a couple block shots and rebounded good. Robyn Gordon a sophomore came in and was being a leader out there. We had a slump the first quarter and she really just kinda stepped up. Halftime she gave a speech and everyone stepped up when she came out with that energy."
The SAU Tech Rockets trailed early in the game after the Stars were able to hit three early threes, but the Rockets would come climbing back behind the athletic play of Allen Taylor on offense and Trey Johnson's defense.
The Rockets did the bulk of their work in the transition game turning defense into offense.
"We came out and they jumped on us," SAU Tech Rockets Mens Basketball Coach Marty Levinson said. "It's tough when you come out in a zone sometimes you give up some early threes in the game and you just gotta hope they keep settling for it and start missing. Our urgency is one of the things that make us as good as we can be. We don't like to give up anything. They had 20 points at half time so our defense was pretty good but I was mad every single time they score, right? But our defense was really good. We gotta do a better job at transitions."
Bakersville native Ronnie Stapp played more minutes in the game and was able to make a few timely contributions to the team with his game IQ.
"He played at Fullerton Junior College under a great friend of mine," Levinson said. "He told me he had a kid and that I was going to like him. We have such good kids here and we were needed someone else that could come in with a good personality and be a good teammate. I already knew about his skill set. I knew he could make the right pass and he knows a lot about taking the right angles. He got going a little today and really helped us."
SAU Tech will host Arkansas MidSouth on Thursday night with the Women's game starting at 5 p.m.
Last year, the Lady Rockets upset the top 20 nationally ranked MidSouth Women's team twice - by one point on the road and by 12 points at home.
"They are locked and loaded against this year," Brooks said about MidSouth. "The got a great coach up there so it's definitely going to be a good game. We are going to have to be locked in and play better."
"Coach Parker does a great job with them," Levinson said about the MidSouth Men's basketball team. "They're discipled and their talented. They got the Sam Smith kid from Arkadelphia. His ability to score the ball in a lot of different ways. They are undefeated. We just need to be healthy and ready for a big, big night here on Thursday."
Sponsor Content
Comments