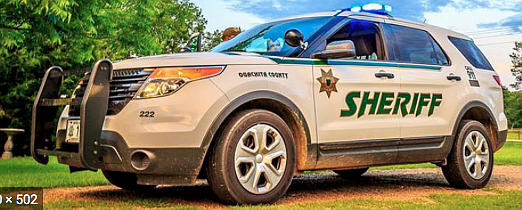 CAMDEN — Staff Report
The Ouachita County Sheriff's Department is actively transporting essential workers and people with health emergencies.
Sheriff David Norwood said his department has helped around 200 people including nurses, nursing home workers and dialysis patients.
As deputies attended former Sheriff and County Judge Paul Lucas' funeral Monday, the Camden Fire Department stepped in and provided transportation for essential workers and patients. Norwood wanted residents to know that his department is available to help with emergency transportation and can be reached by calling 231-5300.
Ouachita County Medical Center President and CEO Peggy Abbott issued a thank you to the department in a post on Facebook.
"A special thank you to Ouachita County Sheriff David Norwood and the deputies who work alongside him. For many years Sheriff Norwood has contacted me when winter weather was in the forecast to say that he and his team of deputies would transport any OCMC employees who needed a ride during the bad weather. This year was no exception and they have transported any member of our staff that needed a ride to and from work."
She remarked on the hazardous road conditions throughout the county and said how grateful she and other hospital staff were to the Sheriff's Department for helping.
"This winter storm has been exceptional in its intensity, but the Ouachita County Sheriff's Department has been exceptional in caring so deeply for our community that they were on the roads throughout the county before daybreak and well after sunset helping your local hospital remain operational during this terrible weather by helping get our employees safely to work and safely home again," she said.
"Thank you seems inadequate; however Sheriff Norwood to you and your outstanding deputies please accept a heartfelt thank you from this hospital administrator and the entire team at Ouachita County Medical Center. You are our heroes! Ouachita County is richly blessed to have you. You didn't have to do this for us yet you did. We will never forget your kindness. May you each be safe and know that we respect and thank you. You're each amazing."
Sponsor Content
Comments