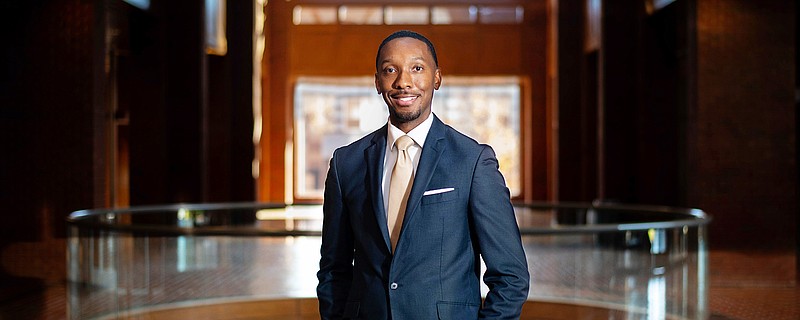 CAMDEN — By Patric Flannigan
Staff writer
Camden native, Brice White, Esq recently received the Esther Silver-Parker Corporate Trailblazer Award. According to a news release, the Esther Silver-Parker Corporate Trailblazer Award is given to an individual that demonstrated dedication to uplifting and building a better future for black lives through business.
After graduating from Camden Fairview High School, White attended the University of Arkansas-Fayetteville where he earned his bachelor's degree in political science with a minor in Legal Studies. He then went on to earn his Juris Doctorate Degree from the Leflar School of Law.
The following information was provided by the Black Action Collective - a nonprofit organization with a mission to affirm, promote, and celebrate the rich history, existence, and lives of all Black people with a multicultural collective of liberators to create a safe, vibrant, and an inclusive environment for all.
He earned his law licenses in Three States: Arkansas, Mississippi and Tennessee. For the first four and half years of his career he practiced in Jackson, Mississippi at the Law firm of Sellers & Associates, where he represented both private clients as well as indigent individuals who had been accused of committing crimes. He also represented individuals in civil rights matters, specifically section 1983 actions.
In January of 2014 he returned back to Arkansas and started his own law practice, The Law offices of Brice R. White, Pllc. His primary office was in North Little Rock, however, his purpose of moving back was to focus on the need for quality legal representation in Southern Arkansas.
In February of 2015, Brice White joined the United States Attorney's Office for the Western District of Arkansas as an Assistant United States Attorney, where he became only the second black to ever hold that position in the Western District of Arkansas. As a federal prosecutor he managed and prosecuted many different types of cases, including bank fraud, wire fraud, money laundering, false tax claims, public corruption, misuse of federal funds, federal narcotics importation and trafficking violations, and civil rights violations. He played an integral role in assisting former U.S. Attorney Conner Eldridge in starting the "A-Chance" program which stands for Arkansas Cultivating Healthy Attitudes and Nurturing Children to Excel. The program's goal was to directly address and mitigate negative impacts on children exposed to violence and trauma by identifying children who had come into contact with law enforcement and ensuring that school personnel was aware of the contact. He also was a member of the Diversity Committee within his office which ensures compliance with core elements of the Department of Justice's Diversity plan, including input in initiatives of the office.
In August of 2018 he joined Tyson Foods Inc. in Springdale, Arkansas, as Corporate Counsel for Global Litigation and Investigations. He currently manages and assist on complex commercial litigation matters, conducts highly investigations, and is lead counsel for the law department on all privacy related matters. He is a member of the council to the EVP, General Counsel at Tyson Foods. The council's mission is to provide feedback and guidance on professional development, inclusion, and other matters that will add further value to our specific departments and Tyson Foods.
He is a graduate of the 2015 Arkansas Bar Leadership Academy, which is a program that seeks to find future leaders for the Arkansas Bar Association while exposing participants to different public service and educational programs, as well as participation in pro bono activities. He is also a member of the International Association of Defense Counsel (IADC). He has been listed as a Top 40 under 40 lawyer in Arkansas by The National Black Lawyers in 2015 and 2020. He is currently a member of the African American council that reports to the Mayor of Fayetteville, Arkansas. He has been a panelist on multiple panels related to investigations and federal sentencing guidelines and will has served as an Adjunct professor at the University of Arkansas School of Law, where he will taught a class on internal investigations.
Sponsor Content
Comments