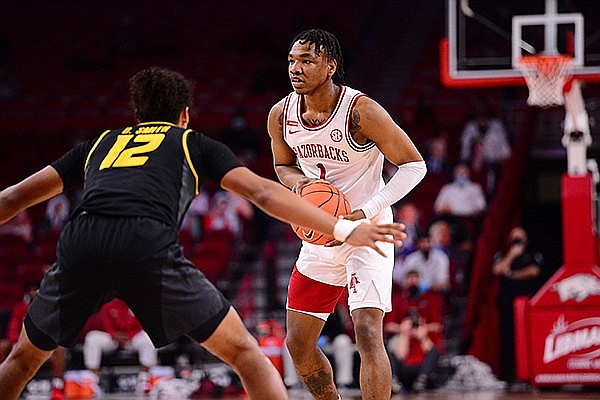 Arkansas guard JD Notae (1) is defended by Missouri guard Dru Smith (12) during a game Saturday, Jan. 2, 2021, in Fayetteville. ( Gunnar Rathbun, University of Arkansas Razorback Athletics ) Jeremiah Tilmon scored 25 points and grabbed 11 rebounds, and Xavier Pinson added 23 points to lead No. 12 Missouri to an 81-68 road win over Arkansas.
The Razorbacks fall to 9-1 on the season and 1-1 in SEC play while the Tigers bounced back from a 73-53 home loss to Tennessee earlier in the week.
Follow your favorite teams with insightful analysis, in-depth game coverage and award-winning writing.
Subscribe now for unlimited access to the Democrat-Gazette
Arkansas shot 26.8% from the floor in the loss and was 7 of 28 from 3-point range. JD Notae led the Razorbacks with 19 points on 6 of 18 shooting, and Moses Moody added 18 on 4 of 15 from the floor.
All of his makes were 3-pointers, and he finished 0 of 7 inside the arc.
ADVERTISING
Arkansas, according to its stat broadcast system, made just 8 of 30 layup attempts and scored just .85 points per possession. Missouri was 10 of 18 on layups and had six dunks.
Missouri 72, Arkansas 62 - 1:54 left
The Razorbacks are making a bit of a late push without Eric Musselman on the bench, but it might be too little, too late. The Tigers led by as many as 18 after an Xavier Pinson and-1.
Arkansas is currently on an 8-0 run behind scores from Jaylin Williams, a free throw from Ethan Henderson, and layups from Desi Sills and JD Notae.
Notae and Moses Moody each have nine points since the break and have 17 and 18 points, respectively.
Jalen Tate fouled out at the 4:03 mark in the second half.
Missouri 66, Arkansas 52 - 3:51 left
The Razorbacks will have to play the rest of today's game without Eric Musselman. He just got ejected after picking up two technicals arguing with an official.
Arkansas is shooting 23% today, and Missouri is at 44.7%.
Jeremiah Tilmon has 25 points and 11 rebounds, and Xavier Pinson has 17 points and four assists.
Connor Vanover and Desi Sills are a combined 0 of 19 from the floor and have six points.
ARTICLE CONTINUES BELOW
ADVERTISEMENT
More related headlines
UA roster impressive to Martin
Arkansas-Missouri catches eye of CBS
Freshman Moody off to a solid start
Right foot smarting for Smith
Kentucky puts end to Arkansas streak
Show of strength
Missouri 55, Arkansas 43 - 7:46 left
The Razorbacks do not have a bucket from the field since the 12:07 mark, and Missouri is on the verge of really putting this game away.
Dru Smith just buried a 3 from the top of the key to give the Tigers their biggest lead of the day at 12. All six of his points today have come in the second half.
Arkansas is shooting 21.8% from the floor and is 5 of 22 from deep. The Razorbacks have also missed nine free throws and 18 of their 23 layup attempts. That is not the recipe to beat anyone at any level.
Jalen Tate will be at the line when play resumes.
Missouri 45, Arkansas 40 - 11:41 left
I'm not entirely sure how, but the Razorbacks are down just five points and have a chance to cut their deficit to three coming out of the under-12 media timeout.
After forcing Missouri's 17th turnover of the game, Jalen Tate hit Desi Sills in transition, and he was fouled as he attempted a layup. Sills has been quiet today offensively, but this is a chance for him to spark Arkansas.
JD Notae has five points in the second half to lead the Razorbacks. He converted an and-1 a moment ago after the Tigers took at eight-point lead.
Arkansas, though, is lucky to even be in this game. The Razorbacks are 5 of 19 on layups today, according to Arkansas' stat system. Missouri is 7 of 14, plus four dunks.
Missouri 40, Arkansas 35 - 15:54 left
It has been a gigantic struggle to find any kind of offense outside of Moses Moody today.
The freshman has a team-high 12 points on 3 of 5 from deep. JD Notae has eight and Jalen Tate has seven, but that's about it offensively.
Connor Vanover can't buy a bucket. He is 0 of 9 from the floor and 0 of 4 from deep, but he does have two blocks and two steals.
Dru Smith just hit a 3 from the top of the key to push the Tigers' lead to five at the first media timeout of the second half. It's his first bucket today. Jeremiah Tilmon is up to 16 points and nine rebounds.
Xavier Pinson will be at the line when play resumes.
Missouri 33, Arkansas 30 - Half
Poor half from the Razorbacks offensively, but they find themselves down only a bucket at the break.
Arkansas shot 24.2% in the first half and made only 4 of 15 attempts from deep. Missouri didn't shoot the 3 well – 1 of 8 – but leaned on Jeremiah Tilmon and he delivered.
He has 14 points and eight rebounds at the break, both game highs.
Moses Moody has a team-high nine points for Arkansas and JD Notae has eight, but he's 2 of 7 from the floor and has three turnovers. He tried to do a little bit too much in the first half. We'll see if he turns it around after the break like he has the last four games.
Xavier Pinson also has eight points for the Tigers and Kobe Brown has six. I feel like Arkansas was pretty fortunate in the first half that Missouri didn't knock down some really good penetrate-and-kick corner 3 looks.
The Razorbacks are being outscored 18-6 in points in the paint to this point. Arkansas has turned Missouri over 12 times but has just seven points to show for it.
Missouri 30, Arkansas 28 - 3:47 left first half
Moses Moody and JD Notae are collectively keeping the Razorbacks alive offensively. Moody has a team-high nine and Notae has eight. Desi Sills has not scored yet, and Connor Vanover is having his worst game of the season.
He is scoreless to this point and has missed all seven of his shots, including five 2-point looks. However, Arkansas is plus-3 with him on the floor. Go figure.
Razorbacks are having some trouble finding the lineup that can give it a spark on both ends. Big few minutes upcoming for this group.
Jeremiah Tilmon has 14 points and five rebounds to lead Missouri.
Missouri 24, Arkansas 23 - 6:64 left first half
The Razorbacks found some offense between the breaks, but Jeremiah Tilmon continues to be a big problem for Arkansas.
JD Notae scored five quick points for the Razorbacks as part of a 7-0 run to give them their first lead of the day. Jalen Tate just buried a left-corner 3, his first of the season to pull Arkansas within one. Tate, though, had made some silly mistakes today, including a turnover on a behind the back pass, and he just fouled a Tigers player attempting a 3.
Tilmon is up to 14 points and four rebounds. He is the only Missouri player with more than four points.
Missouri 14, Arkansas 7 - 11:42 left first half
Jeremiah Tilmon – eight points, three rebounds – is a grown man and is taking advantage of Arkansas playing pretty soft on the interior. He has three dunks already, including a two-handed tip-slam just before the media timeout.
JD Notae will be at the line when play resumes. He took Tilmon off the bounce going baseline and drew a whistle.
The Razorbacks are really struggling offensively, hitting 3 of their first 16 shots and 1 of 8 from deep. Moses Moody has the only make from 3, and it was Arkansas' only score between the media timeouts.
Missouri 8, Arkansas 4 - 15:04 left first half
Devo Davis and Jaylin Williams have played with great energy in the game's opening minutes. Williams, who was the first big to check in off the bench, recorded a block, defensive rebound and steal in two minutes of play.
Davis already has a handful of deflections defensively to go with two steals. He is always around the ball. Missouri's guards are going to have to be wary of him at all times. Davis added Arkansas' first score on a nice find from Moses Moody. Great back cut from Davis on the play, too.
Jeremiah Tilmon has four points to lead Missouri. He threw down an oop on the Tigers' first possession.
Pregame
Arkansas' starting lineup: Desi Sills, Jalen Tate, Moses Moody, Davonte Davis and Connor Vanover.
Big news prior to tipoff is Razorbacks forward Justin Smith will be out 3-6 weeks after undergoing right ankle arthroscopic debridement surgery on Friday. Smith is averaging 11.6 points and 7.1 rebounds per game and leads the SEC in offensive rebounds per game (3.44). Pretty big blow to Arkansas' front court.
In Smith's place, Davis gets the first starting nod of his college career. He provided Arkansas great energy and effort in Wednesday's win at Auburn, finishing with four points, two steals, one rebound and one assist.
Moody is averaging a team-high 16.8 points per game this season, and JD Notae is second at 15 points off the bench. Moody was terrific in December finishing at the rim, getting 19 of 25 attempts to fall. He also heated up from 3 on the left wing by hitting 5 of 9 looks.
Sills is on the best scoring tear of his college career. He is averaging 18.5 points per game over Arkansas' last four games and has scored in double figures in five consecutive games for the first time as a Razorback. Sills was second on the team in December in scores at the rim with 21.
Tate quietly had a really good month converting in the lane, finishing 23 of 31 looks, including 18 of 23 at the rim. He added 12 points and four assists in his SEC debut on Wednesday.
Missouri's starters: Xavier Pinson (6-2), Dru Smith (6-3), Mark Smith (6-5), Kobe Brown (6-7) and Jeremiah Tilmon (6-10).
Eighth consecutive start for this group this season. Over 82 defensive possessions together, this lineup has allowed .89 points per possession and held opponents to 42.4% on 2-point field goals. Teams have,shot the 3 at a 37% clip. Offensively, it has scored .99 PPP and hit 28% of its 3s.
Pinson is scoring a team-best 13.9 points per game this season, and Mark Smith and Dru Smith have chipped in 12.7 and 12.1 points per night, respectively. Tilmon is grabbing a team-high 7.3 rebounds per game.
Missouri coach Cuonzo Martin is 6-5 in his coaching career against Arkansas, including 3-3 with the Tigers.
Sponsor Content
Comments