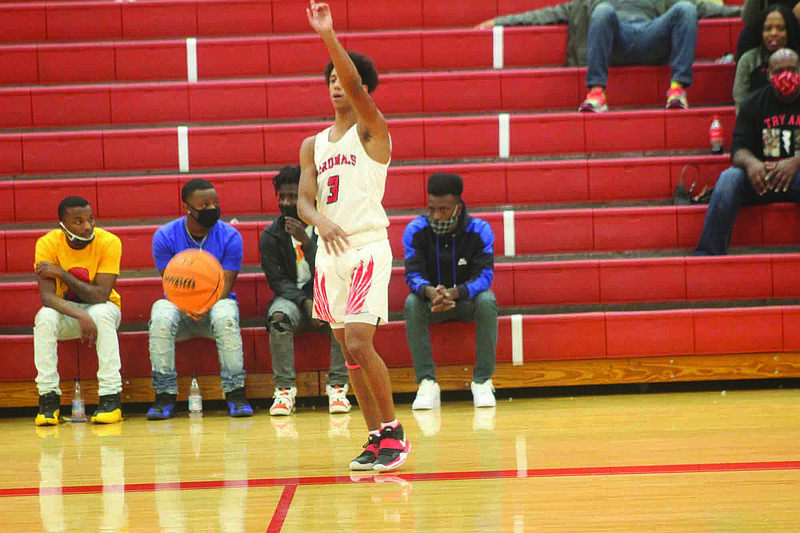 CAMDEN — By PATRIC FLANNIGAN
Sports editor
The Camden Fairview basketball program got back into the winning column after an extended layoff with both the Varsity boys and girls winning their games on Tuesday night at the The Birdhouse.
The Lady Cardinals defeated Warren 45-39 followed by the Cardinals winning 63-48.
The Lady Cardinals were led by seniors Jhiya Jefferson (12 points) and Tamia Dandridge (9 points) and sophomore Karmen Johnson (7 points).
Warren was led by Ty'Shuna Steppes (17 points) and Keller Bingham (17 points).
"I'm truly proud of the young ladies," CF Lady Cards Coach Johnny Jackson. "We haven't had a practice since December 21. So what we decided to do was go to a lot of Zoom. Every day at 2 p.m. we would meet on Zoom and go over game plans, ask questions, watch film and get a scouting report together. I think we were mentally ready to play. We dropped some balls but for our seniors to make sure everyone was doing the little things right. I'm just so proud of my young ladies. To be asked to come back after not practicing and just having a shoot around, then get a big win against Warren in your first conference game starting three sophomores and coming off the bench with sophomores and juniors that says a lot about the character of the young ladies."
Jackson said he could tell his student athletes were working during the break and noted the progress his team has made since giving up 26 first quarter points to Warren last season.
"You could tell we wanted to run but everything wasn't really clicking," Jackson explained. "Some bounces you usually get to, it just wasn't there. They got out there on they ran and shot and dribble on their own during the break. Going forward you going to see a lot of running and shooting. I mean we finna let it go. We gonna play to win."
Jackson was jovial in describing the questionable technical foul he received during the game. He said that it was only his sixth technical foul in 20 years.
"The official told me I was calling the game," Jackson shared. "My daughter told me that she has never seen me get a tech in her 19 years. It's not in my character to down grade anybody but I want what's fair for my kids. I turn into a different person when you messing with my kids and thats how I am when it comes to the Lady Cardinals. I wasn't disrespectful or anything. He told me that he should've game me a warning. He gave Warren's coach a waning but didn't five me one. Just have to live with it."
The Cardinal boys saw the return of all conference performer Christian Strahan who had been out with a hand injury. Strahan led the team with 20 points and was a threat from outside, followed by junior Daylan Jackson (17) and sophomore Trey King (13). Senior Jaquavious Strickland added 10 points.
"It was good to get back," CF Head Coach Josh Nix shared. "A little rusty start. Still gotta get back in shape good, but it was good to get back in the gym. It's been about a month or so since we played. Good to get our feet back under us and get a win."
Nix stated that the team was able to attack from all over the floor on offense after finally getting back healthy.
"Our (post players and perimeter players) worked well together," Nix stated. "We tried to work a little high low game to get them to collapse on that and try to see if we could knock down some shots from the outside."
The Cardinals and Lady Cardinals will travel to play Watson Chapel on Friday.
Sponsor Content
Comments