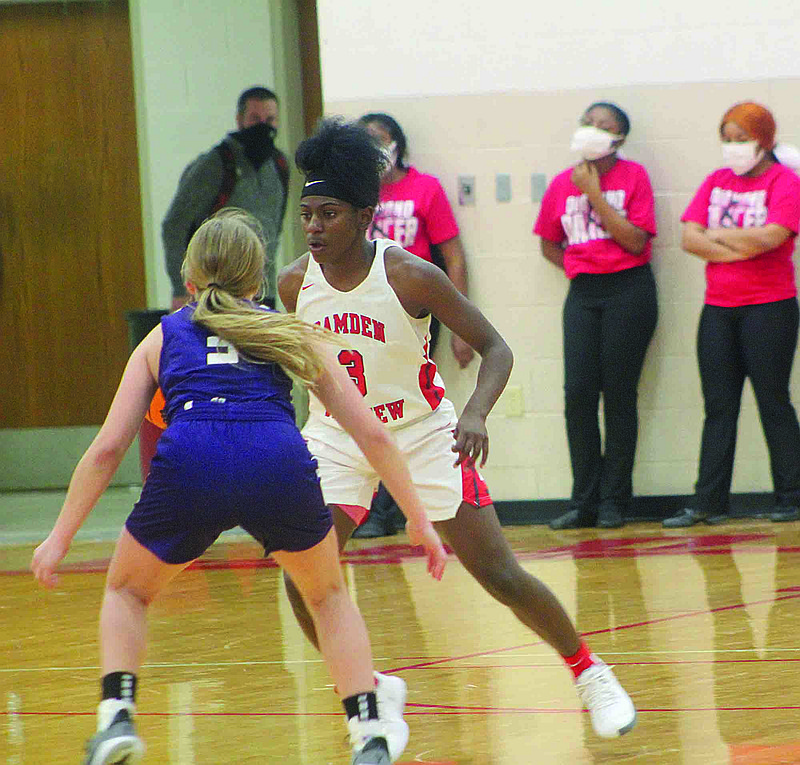 - Photo by Patric Flannigan
CAMDEN — The Camden Fairview basketball program picked up three big wins at home on Tuesday night when they played against Hamburg.
The freshman Cardinals defeated the 9th grade Lions in the first game on the night, then the Varsity Lady Cardinals won 34-23 in the girls game. The Varsity Cardinals won going away, 62-34.
It was a welcomed sight for the Varsity Lady Cardinals who had to escape the Lady Lions last Thursday during a make up game on the road with a one point win.
The Lady Cardinals got off to a slow start offensively, but its defense was too much for Hamburg. CF held Hamburg to nine points in the first half and enter the third up by 13 points.
In the third, CF Lady Cardinals Coach Johnny Jackson was able to get some of his alternate players in the game and maintain a comfortable lead for the win.
Tamia Dandrige and Jhiya Jefferson combined for 25 points during the game.
It was the third conference win for the Lady Cards.
Cardinals move to 6-2
The Camden Fairview Varsity Cardinal are tied for second with Watson Chapel in the 8-4A Conference with its big win over Hamburg last night.
CF Head Coach Josh Nix's team found the range from outside early and ended the night with eight three pointers.
The Cardinals were led by Christian Strahan with 19 points followed by JaQuavious Strickland with 10, Jaden Bates with nine and Trey King with seven.
Next up
Camden Fairview will travel to play Warren on Friday for Varsity Girls and Varsity Boys games starting at 6 p.m. Then CF will host Star City for Varsity Boys and Girls games at 4 p.m. on Saturday.
Sponsor Content
Comments